Three trucks hit Irish railway bridges on same day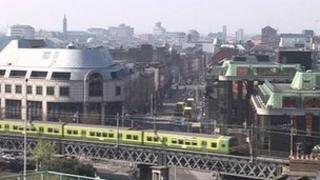 Three trucks have crashed into railway bridges in the Republic of Ireland in separate incidents on the same day.
The collisions happened in three different locations between 11:30 BST and 19:30 BST on Monday.
The first happened at Monasterevin, County Kildare, delaying the 11.35 BST Dublin to Galway train by 50 minutes.
The second took place in Ringsend, south Dublin, at about 13:30 BST while the third truck hit Amiens St bridge in central Dublin at about 19:30 BST.
'Unprecedented'
No damage was caused to any of the railway bridges but Barry Kenny from Irish Rail said it was "extremely unusual" to have so many collisions between trucks and bridges in one day.
"Last year, there were 61 overall in the entire 12 months, so three in a day is obviously unprecedented," Mr Kenny told the Irish state broadcaster, RTE.
"Obviously when this happens it can cause severe disruption to our rail services because we have to check the bridges to ensure there is no structural damage," he said.
Irish Rail told RTE that it was "unforgivable" for hauliers not to know the height of their lorries and the height of the bridges on their routes.
"There's no excuse really, in terms of the licensing for hauliers, for truck drivers, it's a basic rule of the road," Mr Kenny added.
The two Dublin crashes resulted in delays of up to 20 minutes on the city's electric rail system, DART (Dublin Area Rapid Transit) on Monday.