Poland jails trio over theft of Berlin coffins van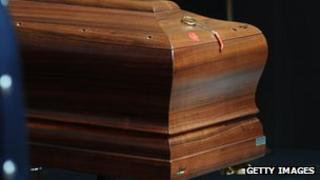 Three men have been jailed in Poland for stealing three vans from a Berlin suburb, including one containing 12 coffins with bodies inside.
A court in Poznan, central Poland, ordered the men to serve between two and four years in prison for the thefts, according to reports.
The vans were taken from Hoppegarten in Germany in October.
The men were reportedly not aware that the bodies, which were scheduled to be taken to a crematorium, were inside.
The coffins and the bodies were found two weeks later in a wooded area near Konin, also in central Poland, where the men had dumped them.
The bodies were later returned to Germany, Polish radio said.
The alleged ringleader of the group is being sought under a European arrest warrant, it added.
A fourth man has previously been given an 11-month term for his involvement in the thefts, the Associated Press reported.