Belarus Free Theatre: Thespian guerrilla group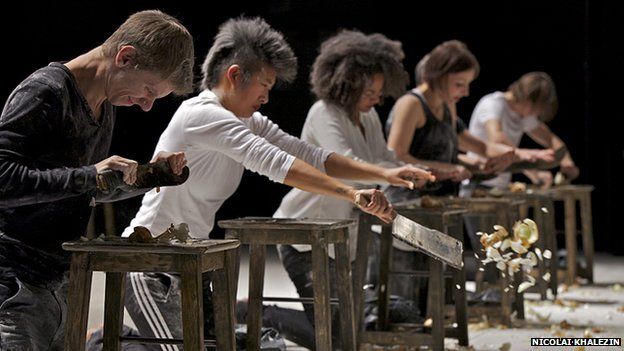 A kind of thespian guerrilla group in exile, the Belarus Free Theatre is renewing its campaign for revolution in its homeland with a new play in London.
Fighting to bring down the regime of Alexander Lukashenko in Belarus seems like a hopeless mission.
Nearly two decades since coming to power, the man often described as "the last dictator in Europe" looks as unshakeable as ever.
But Natalia Kaliada shows no sign of ever giving in. Her method of insurrection - a theatre company based 1,000 miles away - may seem puny when pitched against the might of a Soviet-style authoritarian state, but she has good reasons to carry on.
"My husband and his friend sat one evening - it was 6, July 2000 - talking about their families and plans. And next morning the friend was kidnapped and killed," she says.
"And it has happened to five of our friends. And then you really don't think what matters to you artistically or professionally - it's what matters to you as a human being. We need to try to give back the value of human life - because it's lost, it doesn't have value any longer."
Kaliada and her husband, Nicolai Khalezin, were touring in New York with the Belarus Free Theatre when they were declared public enemies on Belarusian national television. They did not to fly home.
That was two years ago. But while the company's leading lights are stranded abroad, a handful of its members continue to put on productions in Belarus, in secret, despite intimidation and the threat of arrest.
Plays take place in private homes, street cafes and forests. The audience are told the venue only shortly beforehand, by text message, and sometimes assemble under a pretence, like a fake wedding.
"Just a week ago there was another police raid on our underground performance," Kaliada says. "Police take personal details not only of our actors but also of our spectators," she says.
"Every time spectators come to our performances we ask them to bring their passports with them because they could be detained or arrested."
Police then turn up at the audience member's school or university, and threaten to take away their education, or their parents' jobs.
Kaliada says despite the intimidation, their audiences in Belarus are increasing. "They want to show they're not scared, and say: 'We will resist you'."
Nicolai Khalezin and another Belarusian refugee in London, Vladimir Shcherban, continue to direct rehearsals back in Belarus, and give tuition, via Skype.
"It's very complicated for the creative process. But it can also be very funny," says Kaliada.
She paints a picture of Nicolai - or his detached talking head - asking to be moved around a room so he can see the action from a different angle -comedy from tragedy.
Meanwhile, the London branch of what Kaliada calls the "two-headed beast" continues its mission - to bring her country's plight to the world's attention and ask for its help.
Her company has made its home in exile at London's Young Vic, which has a reputation for cutting-edge theatre.
This week the Belarus Free Theatre opens Trash Cuisine, which by its own account will be a gut-wrenching examination of the death penalty, based on testimony gathered from death row inmates and executioners.
Belarus is the last country in Europe to maintain capital punishment. Last year it executed two young men found guilty of detonating a bomb in the Minsk metro.
Terrorist attacks were virtually unheard of in Belarus, and the bombing came at a time when the government was holding several political trials as well as facing a severe economic crisis.
The authorities said the men confessed - but they later tried to retract their confession, saying it was extracted under duress.
Amnesty International says the death penalty in Belarus is administered by a shot to the back of the head. It follows shortly after the convict is informed that President Lukashenko has turned down his plea for clemency. There is no appeal, and the body is never returned to the convict's family.
Belarus may execute relatively few people compared with China, Iran and Iraq - but Kaliada believes the death penalty is merely one expression of the inhumanity underlying repressive regimes.
She recalls being told by the Czech playwright and dissident Vaclav Havel that: "If you want to continue the existence of a dictatorship you need to whisper. But if you want to stop it you have to shout."
Kaliada says whenever she meets Foreign Secretary William Hague or another Western politician, her parents get a visit from the KGB. Her father-in-law died from a heart attack after one such visit - what she calls "the most horrible moment" of her exile.
Despite all that, Natalia Kaliada will continue to shout.
Trash Cuisine is at the Young Vic until 15 June. It will also be performed at the Pleasance Courtyard in Edinburgh from 19 - 26 August, 2013
Related Internet Links
The BBC is not responsible for the content of external sites.