Right-to-die case: Irish PM rejects Marie Fleming plea to legislate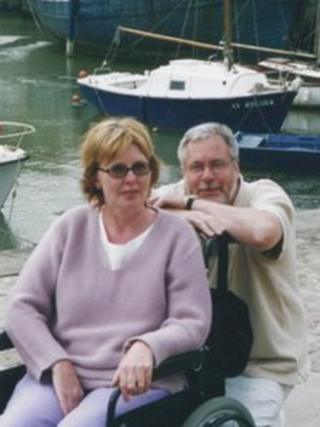 Irish Prime Minister Enda Kenny has rejected a plea by the family of a terminally ill woman to change the law on assisted suicide.
Marie Fleming, who has multiple sclerosis, is physically unable to end her life and wants her partner to help her die without fear of prosecution.
Last month, she lost her landmark challenge to the Republic's legal ban on assisted suicide.
Mr Kenny expressed sympathy but said it was not for him to legislate.
The taoiseach was speaking after Ms Fleming's partner Tom Curran and daughter Corrina Moore visited the Irish houses of parliament on Wednesday.
Their case was raised in the Dail by independent representative John Halligan.
In the failed case she took to the Irish Supreme Court, Ms Fleming had argued the ban on assisted suicide breached her constitutional rights and discriminated against her as a disabled person.
The court ruled that there was no constitutional right to die or to be assisted to do so.
Mr Kenny acknowledged the pain and suffering of Ms Fleming and the care and love shown by her family, but said he could not change the law.
Speaking afterwards, Mr Curran said he still believed the taoiseach could do something, saying while he showed compassion, actions spoke louder than words.
Mr Curran told RTE that he would be seeking legal clarification on the ruling, but as far as he was concerned the Supreme Court stated that there was nothing to prevent parliament introducing legislation to deal with right-to-die cases.