Six Bosnian Croat ex-leaders convicted of war crimes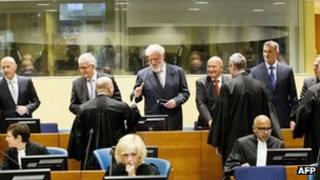 A UN tribunal has found six former Bosnian Croat leaders guilty of war crimes and crimes against humanity during the 1990s Balkan wars.
They were convicted of persecuting and murdering Bosniaks (Bosnian Muslims) and other non-Croats in a plan to create an ethnic Croat state in Bosnia.
The court in The Hague jailed Jadranko Prlic, the leader of the self-proclaimed state, for 25 years.
The other five men received prison sentences ranging from 10 to 25 years.
They are:
Bruno Stojic - former defence minister of the breakaway Herceg-Bosna mini-state - 20 years in jail
Slobodan Praljak - former militia head - 20 years
Milivoj Petkovic - former militia head - 20 years
Valentin Coric - former commander of Bosnian Croat military police - 16 years
Berislav Pusic - ex-head of prisoner exchanges and detention facilities - 10 years
The six men are now expected to appeal.
'Greater Croatia' plan
A three-judge panel at the International Criminal Tribunal for the former Yugoslavia (ICTY) convicted the wartime leaders by a majority decision.
The judges ruled that murders, persecutions, rape and torture of Muslims "were not committed in a random manner by a few undisciplined soldiers" but were part of the plan to remove Muslims from the self-proclaimed Herceg-Bosna state in 1993-94.
They also said it was a religiously-motivated campaign, describing how mosques were blown up and Muslim prisoners were forced to recite Christian prayers.
Referring to the forcible expulsion of the Muslim population from the eastern part of the city of Mostar, the panel said: "Muslims were woken up in the middle of the night, beaten and forced to leave their apartments, often still in their pyjamas. Many women, including a girl of 16, were raped by HVO (Croatian Defence Council) soldiers".
The aim of the Bosnian Croat campaign was to carve out an ethnic Croat mini-state, annexing it later to become part of a greater Croatia.
The judges also concluded that late Croat President Franjo Tudjman was a key participant in the plan.
The six defendants - who voluntarily surrendered themselves to the tribunal's custody in 2004 - showed no emotion as the court's verdict was read out.
The trial - which began in 2006 - was the tribunal's longest running case, the BBC's Anna Holligan at The Hague reports.