German police warn of exploding train ticket machines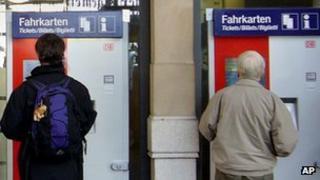 Police in Germany are urging train passengers to be wary of ticket machines that they say could explode after being tampered with by thieves.
Criminals in the central state of Hesse have discovered a way of breaking into the machines by filling them with flammable gas, taping over openings and triggering an explosion.
But some of their attempts have failed, leaving gas inside the machines.
The authorities warn that passengers could be at risk.
A police spokesman said 10 ticket machines had been blown open and cash and blank tickets stolen. But the attempts at robbery have failed in at least six cases.
On Tuesday, a station platform in Karben, near Frankfurt, had to be evacuated and bomb experts called in when a taped-up ticket dispenser was discovered, along with a smell of gas.
The police are asking passengers to be careful and to call them if they see any suspicious signs.
Train operator Deutsche Bahn has confirmed the incidents and strengthened security measures. In a statement, it said a criminal group appeared to be operating.
They said the perpetrators had only succeeded in stealing small sums because the machines were emptied frequently.