New EU agreement to boost Schengen border accord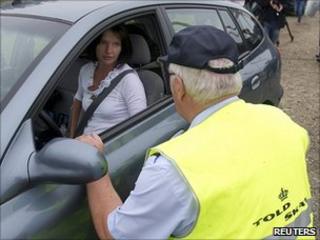 Agreement has been reached in Brussels on when temporary border controls can be introduced in the European Union's free-movement Schengen area.
The new accord lays down common rules on reintroducing checks in exceptional circumstances.
It also allows unannounced inspections to ensure controls are not being imposed illegally.
Schengen permits EU citizens to move freely without passport checks between the 22 states that signed up.
The latest accord, negotiated between the European Commission, the European Parliament and governments, now goes to a full meeting of the parliament for consideration in June or July.
It lays down when a country facing a serious risk to its security can temporarily bring in frontier controls.
Reports say this could be for a maximum of two years, depending on the type of risk.
In a case of terrorist attack, the agreement would reportedly permit border controls to be imposed immediately for between 10 days and two months.
However, the agreement makes clear that the use of controls should be a last resort.
In addition, any recommendation by the European Commission would need the approval of EU member governments.
The deal provides for the EU border agency, Frontex, to periodically examine how the rules are being applied.
'Major achievement'
The Vice-President of the European Parliament's Progressive Alliance of Socialists and Democrats, Sylvie Guillaume, welcomed the new measure.
"This long-awaited decision is a major achievement which will prevent any future reintroduction of border controls for political purposes," she said.
An influx of North African migrants caused tension between France and Italy in 2011, leading France to prevent migrants arriving by train from Italy.
Both countries called for more powers to reintroduce temporary border checks.
Also in 2011, Denmark - another member of the Schengen area - briefly reintroduced border controls on the German border.
Diplomatic sources quoted by the Spanish news agency, EFE, said a mass influx of immigrants would not be considered a serious threat under the accord, but Frontex could take it into consideration when deciding whether to recommend the closure of borders.
"This agreement is great news for strengthening the free movement of our citizens," said Ms Guillaume.