French soldier stabbing: Man on terrorism-linked charges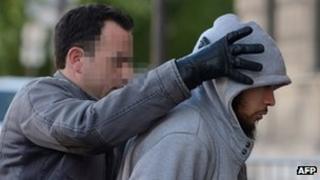 Judges have charged a 22-year-old man over the stabbing of a French soldier in a major business district near Paris on Saturday.
Alexandre Dhaussy was placed under formal investigation for "attempted murder linked to a terrorist enterprise".
Prosecutors say Mr Dhaussy, believed to be a recent convert to Islam, has already admitted to attacking Private First Class Cedric Cordier.
The solider is now out of hospital.
The attack came three days after the killing of British serviceman Drummer Lee Rigby outside a barracks in the Woolwich area of London.
Mr Dhaussy, who was arrested on Wednesday, is suspected of stabbing Pfc Cordier in the neck.
It happened as he was on patrol in a busy underground hall where shops and public transport lines converge in the commercial area of La Defense.
French President Francois Hollande said there was no evidence to link the two attacks.
High alert
Mr Dhaussy appeared before an anti-terrorism court on Friday.
Video footage from the shopping centre showed him buying two knives an hour before to the attack and "saying a Muslim prayer" minutes before the stabbing on Saturday, the AFP news agency said.
On Wednesday, prosecutor Francois Molins said Mr Dhaussy was a convert to Islam who had "wanted to attack a representative of the state".
He had stabbed the soldier with a "fairly clear intent to kill" and had probably acted based on his "religious ideology", Mr Molins told reporters.
Police have said Mr Dhaussy, who was reportedly unemployed and homeless, had a record for petty crime and was known to have been radicalised, but had not been considered dangerous, according to Reuters.
Under French law, the formal investigation is an important step towards a trial and means prosecutors feel they have sufficient evidence.
France is on high alert following a threat from the North African wing of al-Qaeda, related to the country's involvement in Mali.
The raised alert level is one of the reasons soldiers are on patrol in central Paris and other high-profile areas, correspondents say.
Last year, soldiers were targeted by Islamist militant Mohamed Merah in the Toulouse area of southern France.
He shot dead three French paratroopers then attacked a Jewish school, murdering three children and an adult, before being killed in a police siege.