Switzerland enforces new quotas for EU workers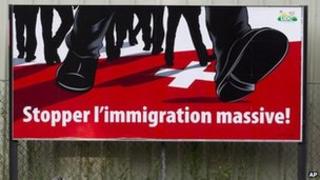 Quotas on the number of EU citizens working in Switzerland have come into effect for one year.
Switzerland, which is not an EU member, says immigration has reached unacceptable levels, with foreigners making up a quarter of the population.
The Swiss have made a series of deals with the EU on the free movement of people in return for access to European markets.
The European Commission has warned that the quotas could jeopardise relations.
The vast majority of immigrants to Switzerland come from traditional EU members like Germany, Spain, Portugal and Italy.
Correspondents say Portuguese seeking work will be hardest hit by the new scheme.
'Safeguard clause'
The BBC's Imogen Foulkes in Geneva says on paper the Swiss have little to complain about.
They have a jobless rate of less than 3%, higher economic growth than expected and a strong currency, she says.
But there is concern in Switzerland about a growing influx of workers from poorer EU members.
A recent government statement said the number of people arriving in the country had exceeded the number leaving by up to 80,000 in recent years.
The Swiss government has come under pressure from both the right-wing People's Party and the Green Liberal Party, which say immigration has reached unsustainable levels.
The number of foreigners in Switzerland stands at almost 25%, many of them recent arrivals from EU countries where unemployment is at record levels, adds our correspondent.
Switzerland is determined not to share Europe's economic misery, she adds and while many Swiss accept their labour market needs foreign workers, they are unhappy about rising house prices or overcrowded schools.
The limits on the eight newer EU member states were first introduced last year.
From 1 June, immigrants from Estonia, Hungary, Lithuania, Latvia, Poland, Slovakia, Slovenia and the Czech Republic will have the number of long-term residence permits capped at 2,180.
From the same date, long-term residence permits for the 17 older EU states will be capped at 53,700 for 12 months.
Immigration to Switzerland from Bulgaria and Romania - the two newest EU states - is severely restricted.
When Switzerland signed up to freedom of movement rules in 1999, it claimed the right to enact a "safeguard clause" if the annual influx of workers exceeded a certain number.
From mid-2014 the clause becomes invalid, so the quotas can in theory only last for 12 months, but Switzerland is due to hold two referendums aimed at limiting immigration.
EU foreign policy chief Catherine Ashton said last month the new quotas disregarded "the great benefits that the free movement of persons brings to the citizens of both Switzerland and the EU".