Anna Politkovskaya murder: Five men on trial in Moscow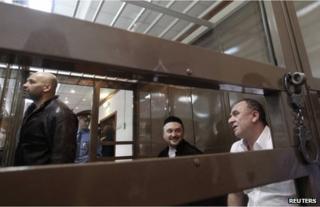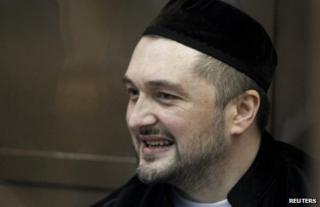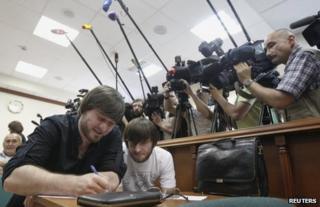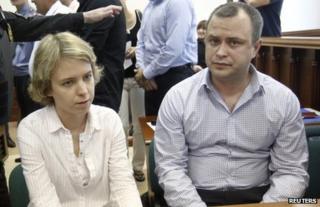 A new trial has begun in Moscow over the murder of prominent journalist and Kremlin critic Anna Politkovskaya in 2006, with five men in the dock.
Three of the accused were acquitted of her murder in 2009 but that verdict was overturned by Russia's supreme court.
The defendants include four members of the same Chechen family, Lom-Ali Gaitukayev and three of his nephews.
All five denied their guilt and asked to be tried by jury. The judge is due to rule on their request on Tuesday.
Politkovskaya was shot dead outside her home in Moscow, in a crime that shocked the world of journalism.
Monday's session was a preliminary hearing to decide procedural matters and was being held behind closed doors.
Mr Gaitukayev is accused of organising the assassination while his nephew Rustam Makhmudov stands accused of shooting the journalist.
Mr Makhmudov's brothers, Ibragim and Dzhibrail, and a former policeman, Sergei Khadzhikurbanov, are accused of being accomplices.
Last year a former police lieutenant-colonel, Dmitry Pavlyuchenkov, was convicted of supplying the murder weapon, and was sentenced to eleven years in jail.
But investigators have yet to provide any details of who they believe ordered the killing of Politkovskaya, the BBC's Steve Rosenberg reports from Moscow.
Anna Politkovskaya was one of Russia's most prominent investigative journalists, our correspondent adds.
As well as being a fierce critic of the Kremlin, she accused the Russian military and pro-Moscow Chechen authorities of human rights abuses.
She was shot dead in the lobby of the block of flats where she lived.
Anna Stavitskaya, a lawyer representing Politkovskaya's family, expressed doubt that the key issue of who ordered the murder would be resolved.
"The case will be solved in full when the person who ordered it is found, when his name is established, when he is charged and his guilt is established by court," she said, quoted by Reuters news agency.
"There is no chance the name... will be voiced in this trial."