Q&A: Protests in Turkey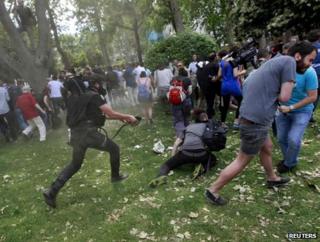 Turkey has been gripped by the biggest street protests since the Islamist-leaning Justice and Development Party (AKP) took power more than a decade ago.
Here, BBC News looks at the causes of the unrest and how it has developed.
What sparked the protests?
The unrest began on 28 May as a protest to stop the demolition of one of Istanbul's rare central green spaces. Gezi Park is located in Taksim Square, the heart of the modern city and a focal point of huge symbolic value to many Istanbul residents and Turks with secular leanings. The development plans envisage building a replica Ottoman-era barracks and a mosque on the square, in a city already well-served by Islamic houses of prayer, critics say. Tempers were already high after police stopped leftist marchers holding a May Day rally on the square this year.
How did the anger spread so fast and so far?
Originally, just a small group of protesters "occupied" Gezi Park but after riot police moved in to clear them out with tear gas and water cannon, the unrest mushroomed into huge demonstrations in Istanbul. On 1 June, thousands of people streamed towards the square across the Bosphorus suspension bridge. Solidarity protests have erupted in 78 Turkish towns and cities and public sector trade unions staged a sympathy strike. The government has since admitted that police overreacted. To date, at least 5,000 protesters have been injured across the country, many of them seriously. The Turkish Human Rights Foundation has said the number of deaths in the protests has risen to four. It says a man who died of a heart attack days ago had been exposed to "too much" tear gas. Two demonstrators and a policeman have also been killed. The government says 600 police officers have been injured.
Who are the protesters in Istanbul?
They range from young, secular-minded women students to football fans, from the urban middle class to "the typical urban poor youth", according to the BBC's Paul Mason, who has been reporting from Istanbul. A committee set up to negotiate with the government, the Taksim Solidarity Platform (TSP), is composed of academics, architects and environmentalists. No particular leader has emerged yet. It is also unclear how much influence the secularist opposition Republican People's Party (CHP) has on the demonstrators, despite government allegations that it is playing a key role.
What are the demonstrators' demands?
The TSP has asked for the scrapping of plans to redevelop the park, the sacking of police chiefs in Istanbul and other cities, a ban on the use of tear gas and the release of detained protesters.
What other grievances are at work?
Some see a creeping Islamisation of their secular state by the AKP under its powerful leader, Prime Minister Recep Tayyip Erdogan. Days before the unrest began, a bill to ban the late-night sale of alcohol in shops was passed by parliament. Protesters have been holding up cans of beer and mock-toasting Mr Erdogan as a gesture of defiance. He has also sought to roll back the constitutional ban on the Islamic headscarf, to ban adultery and kissing in public. Others are outraged by what they see as his authoritarianism - and a campaign against his critics in the media. Supporters of Turkey's traditionally secular status are opposed to his campaign to depower the military and his peace process with Kurdish militants. Others are equally concerned about his policy of supporting the opposition in Syria.
Is this a Turkish Spring?
Turkey is not comparable to those Arab countries which had never known democracy. Firstly, the government owes its legitimacy to three successive election victories. The AKP won the last polls, in 2011, convincingly with international monitors generally satisfied that they had been conducted fairly. Secondly, Mr Erdogan and his party appear to still enjoy a bedrock of support in the wider country. A Pew opinion poll taken before the protests suggested that 62% of Turks took a favourable view of him, though it found this support falling sharply in the Istanbul metropolis, and among secular Turks in particular. Thirdly, under the AKP, Turkey has enjoyed economic growth as well as growing prestige as a regional power.
Any other comparisons?
It is tempting to compare the Turkish protests with the unrest in Moscow after the 2011 Russian general election, when resentment at rule by the same party for more than a decade boiled over. In Russia, the protesters ultimately failed to connect with the wider public and the movement rapidly declined.
How has the Turkish government reacted to the protests?
Prime Minister Erdogan has said that, even though he is a devout Muslim, he is committed to Turkey's secular laws and he denies any charges of autocracy. But he and his government have consistently taken a tough stance. He recently asked: "Were we supposed to kneel before them? They can call me harsh, but this Tayyip Erdogan won't change." He has also vowed to press ahead with the Taksim redevelopment plans and dismissed the protesters as extremists. However, he is scheduled to meet a group of government-selected activists for talks. Riot police fought running battles with pockets of protesters in Taksim Square overnight from Tuesday to Wednesday. By the morning, the square was bulldozed and largely deserted.
What reaction has there been abroad?
The US, which has held up Mr Erdogan's Turkey as an example of Muslim democracy from which other Middle Eastern countries could learn, has expressed concern about events and urged dialogue between government and protesters. The German Foreign Minister Guido Westerwelle has said the Turkish government is sending the wrong signal at home and abroad, describing pictures from Taksim Square as "disturbing". He said he expected Mr Erdogan to "de-escalate the situation, in the spirit of European values".
Could Mr Erdogan lose his own party's support?
It is difficult to see how the party the prime minister founded would turn against him. There is little sign of differences emerging among party leaders. However, President Abdullah Gul, Mr Erdogan's old AKP ally, has taken a more conciliatory line towards the protesters, saying "democracy does not mean elections alone".