No end in sight for protests in Turkey's Izmir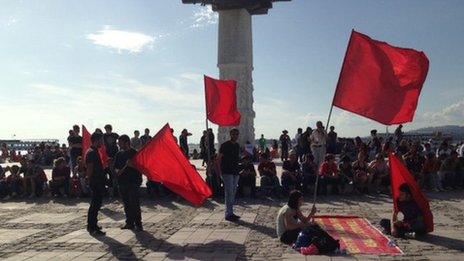 In Izmir, on Turkey's Aegean coast, the town's allegiances are immediately clear at the side of a one of the main highways. There, jutting out from a rocky bluff, is a huge profile of Mustafa Kemal Ataturk, the founder of a secular Turkey.
Here they love Ataturk, his face hangs on Turkish flags on nearly every apartment block. The face of the Prime Minister Recep Tayyip Erdogan appears almost only in graffiti on the city's pavements. The slogans attached are never kind.
Anti-government demonstrators gather nightly at a monument to the republic, while the choppy waves of the Aegean lap the promenade.
With piercing whistles, drums and plenty of beer, they protest, and party into the small hours. Some set up tents, but this is not a permanent camp - they disappear by the time the sun comes up.
It feels like a city carnival. The most striking thing is that graffiti. It crawls from the pavements up the walls, and across shutters. Elderly couples stop to read, some chuckling. Others stop to pose beside some of the slogans.
At a burnt-out Starbucks someone has spray painted: "My country is beautiful when she's angry".
Nearby, a message reads: "Leave me alone", and another message says, "We're on a pathway to freedom".
At a local cafe, Zubeyde Celik sipped strong black tea with friends. Proud of the city's political independence, her immediate concerns were more personal, about sons and daughters facing a harsh response to what began as peaceful protests.
"During the protests, the police were so violent, we were anxious about our kids, and we still are - we have no guarantee for their lives," she said.
Right at the very heart of this crisis are the police, who have been brutal in their response. But near the protests in Izmir, they are little in evidence.
Deep inside one of city's parks sat a group of middle-aged policemen in their shirt-sleeves. Their mood was dark.
"The attitude of the policeman depends on the attitude of the protesters: if they get tough, we get tough, if they keep calm, then we keep calm," said one.
Earlier this week, groups of police raided the homes of internet users in the city. Around 30 young people were arrested for "inciting crime" after they posted messages on Twitter and Facebook, warning protestors of police locations during demonstrations.
The city's residents said Izmir was targeted because of its opposition to the government.
People here consider themselves more laid-back than in the rest of Turkey. But it is difficult to find much optimism in the city and few see any immediate shortcut out of the country's current crisis.