Threat to shoot Irish PM Enda Kenny investigated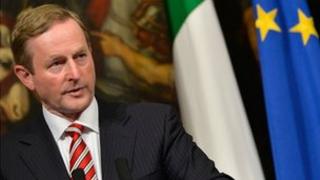 A threat to shoot Irish Prime Minister Enda Kenny is being investigated by police in the Republic of Ireland.
The threat was made in a Facebook comment and appeared on a campaign page set up to save a hospital in Mr Kenny's home town of Castlebar, County Mayo.
It said: "If they close this hospital il (sic) shoot Enda Kenny JFK assassination style."
A police spokesman said one person had been interviewed in County Mayo and a file has been sent to the DPP.
The campaign was set up on the social networking website last month and other Facebook users were able to post public comments on the page.
'Shocked'
It is understood that the threat was posted on 18 May, by a teenager who is not a member of the campaign group.
The matter was reported to police last week by Castlebar councillor Ger Deere, who also works as a parliamentary assistant to Mr Kenny.
Mr Deere said Mr Kenny was "quite shocked" when he informed him of the threat and felt that acrimony over the hospital issue had "gone too far".
The councillor also said that Mr Kenny was disappointed that the threat was not removed immediately by the administrators of the campaign page.
Conor Smyth, who is one of the administrators, told the BBC he could not comment on the matter while a police investigation was ongoing, other than to say that the person who posted the threat has "absolutely no connection" to the hospital campaign.
Mr Kenny has represented Mayo as a Fine Gael member of the Irish parliament since 1975.
He has led Fine Gael for 11 years and was elected prime minister in March 2011.