Czech PM aide held in raids against organised crime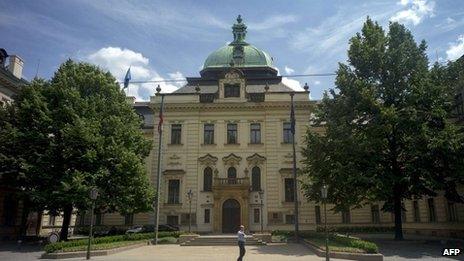 Police in the Czech Republic have raided government offices across the country as part of a crackdown on organised crime.
Several people have been arrested, including the most senior aide to Prime Minister Petr Necas.
Some 400 police officers began raiding businesses, government departments and the prime minister's office in the early hours of Thursday morning.
Mr Necas said he had done nothing "dishonest" and would not resign.
"I am personally convinced that I did not do anything dishonest and that my colleagues have not done anything dishonest either," he added.
He said that he expected police and prosecutors to explain why such a large operation was necessary.
Mr Necas is due to appear before parliament on Friday morning. The main opposition Social Democrat party has called on him to resign.
President Milos Zeman has scheduled a meeting on Friday with the prime minister, the chief of police and the leader of the opposition to discuss the crisis, Radio Prague reports.
The raids on officials, MPs and businessmen are unprecedented in their scale and seriousness, the BBC's Prague correspondent Rob Cameron reports.
Two former MPs from Mr Necas's Civic Democratic Party are reported to be among those arrested.
The head of Mr Necas's office, Jana Nagyova, was among those detained. She is described as his closest adviser.
Mr Necas was also "visited" by police and two state attorneys, Interior Minister Jan Kubice said, but gave no further details.
Commentators agree that this could be the death blow for an already shaky government, our correspondent says.
The raids appear to be connected to a long-running police investigation into links between corrupt businessmen and the state administration, he adds.
In March, the country was gripped by the case of a lobbyist, Roman Janousek, who was alleged to have had huge influence over politicians and officials in Prague.
Mr Janousek was arrested on suspicion of deliberately running over a woman with his car while drunk, which could incur a jail term of up to 10 years.