Czech PM Petr Necas under pressure as aide charged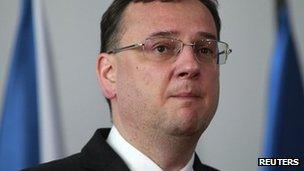 Czech prosecutors have charged seven people after unprecedented raids on government and private offices by organised crime police.
A senior aide to Prime Minister Petr Necas was charged with offering bribes and abuse of office, prosecutors said.
Two former MPs, an ex-minister and the current and former heads of military intelligence were also detained.
Mr Necas has said neither he nor his colleagues did anything wrong, amid growing pressure for him to resign.
Detectives from the country's organised crime unit told reporters that the PM's aide, Jana Nagyova, was suspected of bribing the former MPs with offers of posts in state-owned firms.
It is alleged this was in exchange for them giving up their parliamentary seats.
The two were formerly opponents of the prime minister. At one point they threatened to bring down his government over VAT increases. They later stood down.
Ms Nagyova, who is head of the prime minister's office, is also suspected of illegally ordering military intelligence to spy on three people. One of these is said to be Mr Necas's estranged wife.
Ms Nagyova has been a close colleague of the prime minister for almost a decade; tabloid newspapers claim that they are romantically linked, and she plays a major role in his impending divorce, the BBC's Rob Cameron in Prague reports.
The prime minister has defended his colleague, rejecting all the accusations.
"I have no reason to think that she has committed anything illegal," he said.
He has also criticised the nature of the raids, saying they damaged the reputation of the Czech Republic abroad.
Armed police in balaclavas began raiding a number of government offices and businesses on Wednesday night. The raids continued into Thursday. So far eight people have arrested, with seven charged. Documents, money and even gold has been seized in an operation involving up to 400 officers.
Mr Necas told parliament on Friday he would not step down over the affair, saying he had done nothing wrong. However commentators say fresh allegations potentially implicating him in the bribery affair could be highly damaging, and the situation in Prague is changing hour by hour.
The opposition has already warned it would press for a no-confidence vote in parliament unless Mr Necas resigns.
Meanwhile, the anti-organised crime unit say there could be more arrests within hours.