Syria crisis: Moscow's fears on chemical weapon claims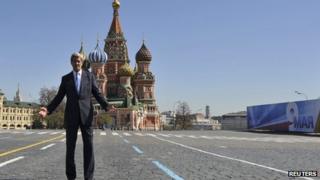 There is a famous Russian expression which declares: "If you've burnt yourself on hot milk, next time blow on hot water."
I believe that it sums up Russia's current attitude to the United States and the conflict in Syria.
The "hot milk" on which Moscow considers it "burned" itself last time was Iraq in 2003.
Russian officials often talk about how it was US claims that Saddam Hussein had weapons of mass destruction that became the pretext for invasion.
On Friday, the head of the Foreign Affairs Committee of the Russian parliament's upper house was still complaining of the long-lasting regional instability that had caused.
Which is why, in the case of Syria, Russia is determined not to get burned again.
Warnings
For months now it has been warning the West against using claims of chemical weapons deployment by President Bashar al-Assad as an excuse for launching foreign military intervention.
And that is what many in Moscow suspect the West's plan is.
The Russian Foreign Ministry has criticised not only Washington's decision to send military aid to the Syrian rebels, but also "calls to go further, to create a no-fly zone over Syria, and to assist [the rebels] not only with arms, but heavy weapons, too".
At the Duma, Russia's lower house, Foreign Affairs Committee chief Alexei Pushkov told the Interfax news agency that the US chemical weapons claims were a "pre-planned action, by certain groups in the US to get Obama more heavily involved in the Syrian war".
He accused Mr Obama of "going down the same route as George Bush".
Earlier, Mr Pushkov tweeted that the US evidence was "fabricated in the same place as the lies about [Saddam] Hussein's weapons of mass destruction".
The Foreign Ministry was slightly more diplomatic in its judgement: the ministry spokesman said the "alleged instances of the use of chemical weapons by the Syrian troops" were not "supported by any convincing facts".
Diplomatic initiatives
So, where does this leave what was supposed to have been a joint diplomatic effort by Russia and the United States to end the conflict in Syria through a mooted peace conference in Switzerland? Will "Geneva-2" ever happen?
Moscow claims it hopes so.
It says it is pushing ahead with the initiative, which it views as the only route to securing peace.
Discussions will continue next week when President Vladimir Putin meets western leaders at the G8 summit in Northern Ireland.
But today the Russian Foreign Ministry suggested that American efforts to get the Syrian Opposition round the table "have clearly stalled".
At the same time, Russia's suspicion of the West is clearly rising.