Czech PM Petr Necas resigns over aide scandal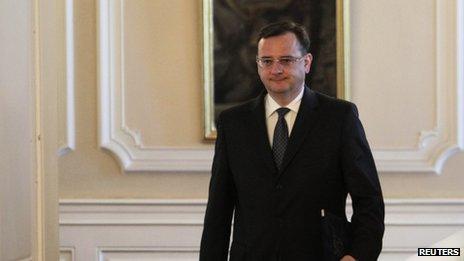 Czech Prime Minister Petr Necas has resigned in an effort to end political turmoil over a corruption inquiry.
His governing coalition will try to form a new government led by someone nominated by his Civic Democratic Party (ODS).
Mr Necas announced he would quit after prosecutors charged his chief of staff with corruption and abuse of power.
Two former MPs, an ex-minister and the current and former heads of military intelligence were also detained.
All except one have been remanded in custody.
"Mr president, in line with the constitution... I resign," Mr Necas told President Milos Zeman on Monday.
President Zeman has asked Mr Necas to stay on as caretaker leader until a new administration is named.
Mr Zeman has said the charges, brought after armed police raids on government and private offices on Wednesday, were "serious".
Up to 150m koruna (£5m; $8m) in cash, tens of kilograms of gold and large quantities of documents were seized during the raids.
The prime minister's chief of staff, Jana Nagyova, is suspected of bribing the former MPs with offers of posts in state-owned firms. It is alleged this was in exchange for them giving up their parliamentary seats.
Ms Nagyova - a close colleague of Mr Necas for nearly a decade - is also suspected of illegally ordering military intelligence to spy on three people.
Czech media reported that the targets included Mr Necas's wife, Radka Necasova. Mr Necas announced this week that they were divorcing.
Mr Necas has rejected all the accusations against Ms Nagyova and the other five accused, saying: "I am personally convinced that I did not do anything dishonest and that my colleagues have not done anything dishonest either."
The opposition Social Democrats had warned they would press for a no-confidence motion in parliament unless Mr Necas stepped down, and the two other parties in his centre-right coalition had signalled that they could no longer support him.
The prime minister said the coalition would try to form a new government, led by a different person, to rule until elections scheduled for June 2014.
Under the Czech constitution, President Zeman - a political rival - is under no obligation to respect the coalition's wishes, and could name his own candidate to head an interim government until early elections are held,
Mr Necas also said on Sunday he would resign as his party's chairman.
"I am fully aware how the twists and turns of my personal life are burdening the Czech political scene and the Civic Democratic Party," he told the briefing.
BBC Prague correspondent Rob Cameron says the admission is the closest the prime minister has come to confirming that the woman at the heart of this scandal - Ms Nagyova - is more than just a colleague.