Q&A: Albanian parliamentary election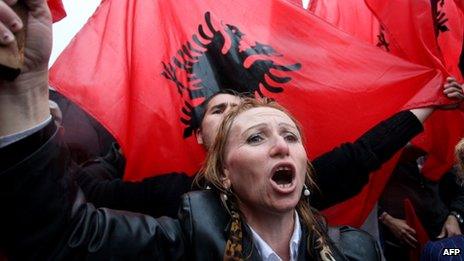 Albanians will elect a new parliament on 23 June - and a clean election is seen as crucial to kick-start the Balkan country's stalled progress towards joining the EU.
In the two decades since the end of communism the results of Albanian elections have generally been disputed.
This time the campaign has been acrimonious. There is a dispute over opposition representation on the Central Electoral Commission, as well as questions over the reliability of voter lists, and allegations of vote-buying and government pressure on public sector employees.
Who are the main contenders?
The frontrunners are coalitions headed by the two dominant figures in Albanian politics - two-term incumbent Prime Minister Sali Berisha and opposition leader Edi Rama, a former mayor of Tirana.
The Alliance for Employment, Prosperity and Integration is a coalition of 25 centrist and centre-right parties based on Mr Berisha's Democratic Party.
The Alliance for a European Albania is a coalition of 37 opposition parties based on Mr Rama's Socialist Party. It includes the Socialist Movement for Integration, which split from the Socialists in 2004 and supported Mr Berisha's government until April this year.
Also taking part are the Red and Black Alliance, a nationalist party founded in March 2012 and led by Kreshnik Spahiu, and New Democratic Spirit, a centre-right party led by former President Bamir Topi (2007-12).
What are the main campaign issues?
Although the frontrunners are deeply divided politically, their programmes are strikingly similar.
Both Mr Berisha and Mr Rama promise economic development, tax reform and job creation. They are also both strongly pro-European, reflecting high public support for EU integration.
What happened at the last election?
In the 2009 parliamentary election, the coalition based on Mr Berisha's Democratic Party received 70 seats, while Mr Rama's coalition received 66.
Mr Berisha secured a majority with the support of Ilir Meta's Socialist Movement for Integration, which received four seats.
However, the Socialists refused to recognise the Democratic Party's victory and boycotted parliament for most of the next two years.
It was only in November 2011 that the opposition agreed to return to parliament to work on electoral reform and other EU integration priorities.
What is the EU's position?
EU foreign policy chief Catherine Ashton said in April that the election must meet international standards and that it would be viewed as a test of Albania's progress towards EU membership.
Albania applied for EU membership in 2009. In 2010, the European Commission presented Albania with 12 key priorities, including amending electoral legislation to bring elections into line with international standards.
Will the election be free and fair?
The biggest question mark is likely to hang over the Central Electoral Commission, which currently has no opposition representatives.
The seven-member Commission chosen by parliament in 2012 included three nominees from the governing coalition, three from the opposition, and an independent chair.
But after the Socialist Movement for Integration withdrew its support for the government in April, parliament replaced its representative on the Commission with one from the governing coalition. The opposition argued that this move was illegal, and its three representatives resigned in protest.
As a result, the Commission currently has only four members - less than the minimum requirement of five.
The opposition has also questioned the accuracy of voter lists. The Socialists have said it includes 25,874 duplications and that 352,237 voters are recorded without an exact address.
A poll of more than 1,600 voters, released in early May, put the Socialist-led coalition well ahead with 49%, against the Democratic Party coalition's 40%, while both New Democratic Spirit and the Red and Black Alliance would get 5.5%.
The poll also suggested that 60% disapproved of Mr Berisha's government, 17% were to some extent satisfied with its work and just 7% were very satisfied.
Polls also point to widespread apathy. A poll of 1,000 voters made public in late May found that 49.5% of respondents had little interest in the campaign and 17.9% said they were not interested at all.
How is the government structured?
Albania is a parliamentary republic, in which the prime minister controls the executive.
It has a single-chamber parliament (Assembly of the Republic) with 140 seats. All 140 members are elected through a closed-list proportional representation system for four-year terms.
The prime minister is chosen by the leading party, or coalition, in parliament and is appointed by presidential decree.
Albania's president is elected by parliament for a five-year term.
The current president, Bujar Nishani of the Democratic Party, was elected in July 2012, in a vote boycotted by the opposition.
BBC Monitoring reports and analyses news from TV, radio, web and print media around the world. For more reports from BBC Monitoring, click here. You can follow BBC Monitoring on Twitter and Facebook.