Germany-Turkey diplomatic row erupts over EU bid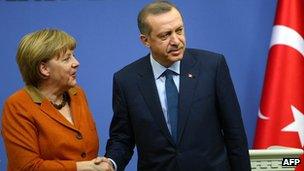 Germany has summoned the Turkish ambassador in a row over Turkey's bid for membership of the European Union.
Turkey's EU Minister, Egemen Bagis, has accused German Chancellor Angela Merkel of using the Turkey issue in her campaign for re-election.
Berlin earlier blocked a plan to resume EU-Turkey negotiations next week.
On Monday, Mrs Merkel sharply criticised Turkey's crackdown on recent anti-government protests, saying the police action was "much too harsh".
Mr Bagis hit back on Thursday, saying that if Mrs Merkel was looking for "internal political material" ahead of Germany's September elections "this should not be Turkey".
On Friday, German foreign ministry spokesman Andreas Peschke said it had summoned Turkish ambassador in Berlin, Huseyin Avni Karslioglu.
Mr Bagis's comments about Chancellor Merkel had been "unacceptable", Mr Peschke added.
He stressed that Turkey's negotiations with the EU were being held up for "technical reasons", rather than concerns about the crackdown on anti-government protests.
Talks on one of the Turkish accession "chapters" - as policy areas are known in EU jargon - had been scheduled for next Wednesday. EU diplomats are expected to consider the issue again on Monday.
Turkey's EU accession talks began in 2005, but progress has been very slow. Talks have been frozen in eight of the 33 chapters because of Turkey's dispute with Cyprus. So far, only one chapter has been closed.
Earlier, Austrian Foreign Minister Michael Spindelegger said that "in Germany, as in Austria, there is great concern" about the reaction of the Turkish authorities to dissent.
Turkish police have used water cannon, baton charges and tear gas to break up protests against Prime Minister Recep Tayyip Erdogan and his ruling Justice and Development (AK) Party.
The protests escalated when police cracked down on peaceful environmental activists opposed to a redevelopment project planned for Gezi Park, in the heart of Istanbul.