EU delays Turkey membership talks after German pressure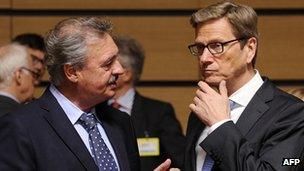 EU foreign ministers have backed a German proposal to postpone further EU membership talks with Turkey for about four months.
The EU-Turkey talks had been scheduled to resume this Wednesday.
But Germany, Austria and the Netherlands have criticised Turkey's crackdown on anti-government protests.
Turkish police arrested at least 20 people in the capital Ankara on Tuesday, suspected of attacking police during the recent unrest in Istanbul.
Turkish media say the suspects are also accused of belonging to a "terror organisation".
Germany's Foreign Minister Guido Westerwelle played down tensions with Turkey on Tuesday, saying he had had a "really good, constructive" discussion with his Turkish counterpart Ahmet Davutoglu on Monday evening.
Mr Davutoglu was upbeat, saying he saw "no obstacle" to reopening Turkey's talks with the EU eventually.
Turkey began accession negotiations with the EU in 2005, at the same time as Croatia, which will join the 27-nation bloc next week.
But Turkey's talks have been stalled for three years, and an EU Commission report on Ankara's progress last October highlighted numerous concerns about democracy and human rights.
Like all would-be member states, Turkey has to satisfy a detailed set of EU requirements, called the acquis. Last year Turkey received 856m euros (£727m; $1.1bn) in EU aid to help it make the necessary institutional reforms.
Germany's Chancellor Angela Merkel wants Turkey to have a privileged partnership with the EU, rather than full EU membership. She hopes to win re-election in September - before the talks with Turkey resume.
Last week Germany summoned the Turkish ambassador in a row over Turkey's membership bid.
The two countries had earlier exchanged angry words in connection with the Turkish police action against demonstrators. Turkish police have used water cannon and tear gas against protesters - a crackdown widely seen to have fuelled anger against Prime Minister Recep Tayyip Erdogan's government.
Initially peaceful protesters had staged a sit-in aimed at stopping a development project in Gezi Park, in the heart of Istanbul.
EU foreign ministers have now agreed to resume accession negotiations with Turkey, but only after a progress report on its EU bid is presented in October, diplomats say.
The next policy area to be negotiated is Chapter 22, dealing with regional policy.
Out of 35 chapters in total only 13 have been opened since Turkey's negotiations began, and eight have been frozen because of Turkey's dispute with Cyprus. So far, only one chapter - on science and research - has been closed.
The Republic of Ireland chaired the foreign ministers' talks in Luxembourg on Tuesday. Irish Foreign Minister Eamon Gilmore said "we agreed to open a new chapter in accession negotiations with Turkey" and "the Inter Governmental Conference with Turkey will take place later this year". The conference is the forum for Turkey's membership bid.
"While we have been disturbed by the reaction to the recent peaceful protests in Turkey, I believe that the EU accession process is the most effective tool we have in influencing the reform agenda in Turkey. EU-inspired reforms have facilitated the increasing space for peaceful protest and dissenting voices," Mr Gilmore said.
"The protests have also shown that Turkey needs further reform. Moving ahead with the EU accession process by opening Chapter 22 will, I believe, allow the EU to continue contributing to shaping the direction of future reform in Turkey."