Germany motorway shooter 'motivated by bad driving'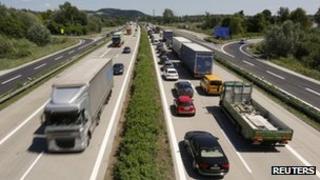 Police in Germany say the man they have arrested over more than 700 motorway shootings fired at other vehicles because of anger over bad driving.
The 57-year-old lorry driver was held in a raid in western Germany on Sunday. Officers say he led them to a cache of firearms.
He is accused of shooting at lorries on motorways, injuring one woman.
Police say he also attacked vehicles in France, Belgium and Austria in a five-year spree starting in 2008.
'War on motorways'
Last year, police quadrupled a reward for information on the shootings to 100,000 euros (£85,000) after larger 9mm ammunition was used for the first time, increasing the potential threat.
Police say the suspect took them to a stash of 1,300 bullets and two guns. He talked of a "war on German motorways" because of his "anger and frustration" over bad driving.
The man told police he was a good shot so he only intended to damage vehicles, not to hurt people.
Joerg Ziercke, the chief commissioner of Germany's federal police, told reporters that 762 shots were fired in total, sometimes from one vehicle driving alongside another.
The police said the married lorry driver - whose name has not been released - would be charged with causing grievous bodily harm and a charge of attempted murder was being considered.
The arrest has sparked a debate over privacy and data-protection in Germany, the BBC's Berlin Correspondent Steve Evans reports.
The police were not allowed to use information from existing cameras on roads because of concerns about privacy and had to set up their own, our correspondent says.
Prior to Sunday's raid, investigators compared licence plate data with the routes of vehicles that had been targeted, the regional public broadcaster SWR reports.
Information from mobile phone masts by the motorways where the shootings had taken place was also analysed.
Most of the attacks happened in western and southern Germany.