Irish Senator David Norris 'seriously ill with cancer'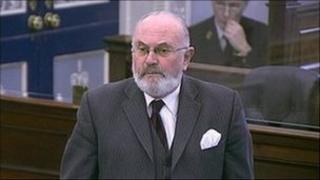 Irish Independent Senator David Norris is seriously ill with cancer.
Mr Norris, a leading James Joyce scholar, was the the first openly gay candidate for the presidency of Ireland.
He abandoned his campaign in August 2011 after mounting pressure and calls for him to go.
It followed revelations that he had written to an Israeli court pleading for clemency for his former partner Ezra Yizhak.
Yizhak had been accused of the statutory rape of a 15-year-old Palestinian boy in 1992. He admitted the charge, pleading guilty and was convicted in 1997.
At that time, Mr Norris said he had written the letter "out of love and concern".
In a statement on Wednesday, Mr Norris said was he had been undergoing medical treatment in Dublin.
"The cancer appears to be related to the initial incidence of viral hepatitis which I contracted from tainted drinking water while I was on unpaid government business in Eastern Europe in 1994," Senator Norris said.
He said he continued to enjoy life and hoped to return to his duties in the Irish Seanad in the next few days.