Same-sex couple take French mayor to court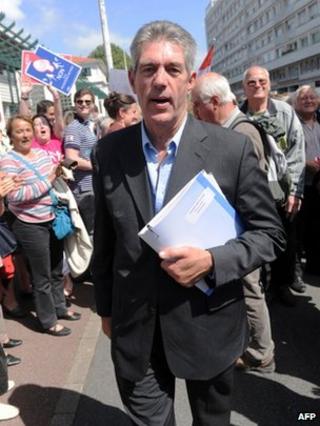 A gay couple in France have taken a mayor to court for discrimination after he refused to wed them under the new same-sex marriage law.
A lawyer for the two men lodged a complaint with prosecutors against Jean-Michel Colo, mayor of a village near the south-west city of Bayonne.
Mr Colo, who has been in office three decades, said he would rather be hanged than officiate at a gay wedding.
He could face five years in prison and a 75,000-euro (£64,000; $98,000) fine.
The mayor, 60, is the first French official formally to refuse to officiate at the wedding of a gay couple.
Public opinion in France remains bitterly divided over the new law on same-sex marriage and adoption, which saw the biggest conservative protests in decades.
Socialist President Francois Hollande made the legislation a key part of his programme.
'A big lie'
Jean-Michel Martin and Guy Martineau-Espel, a couple in their fifties who have been together for 16 years, were hoping to get married in August in Arcangues, where they have a property, Le Figaro newspaper reports.
However, Mr Colo told the regional authorities that no same-sex weddings would be held in his village.
"For me, marriage is for a woman and man to have children," he said. "I am not discriminating as a same-sex couple is sterile. It's a parody of equality, it's a big lie."
The mayor said he would "go to the gallows" rather than back down.
Mr Martineu-Espel told AFP news agency that the couple had tried to tell the mayor that the nuptials would not be played out in the media, but he had failed to persuade Mr Colo to marry them.
Isabelle Duguet, the couple's lawyer, said she had filed a case against Mr Colo for discrimination and refusal to carry out his official duties.
Interior Minister Manuel Valls has warned Mr Colo of "significant sanctions", telling reporters that any public servants refusing to respect the letter of the law would be guilty of discrimination.