Magdalene laundries: Some former residents reject compensation deal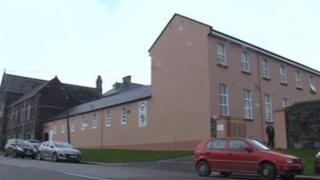 Some former residents of the Magdalene laundries have expressed disappointment at the scheme to pay them compensation.
Thousands of women and girls were forced into unpaid labour at the Catholic-run workhouses that operated for decades in the Republic of Ireland.
The Irish government has agreed to pay between 35m and 58m euros (£30m to £50m) in redress to about 600 women.
But ex-resident Maureen Sullivan, from Magdalene Survivors Together, said her campaign group had "rejected the deal".
Ms Sullivan, a founding member of the group, was placed in a laundry in New Ross, County Wexford, at the age of 12.
She said former residents like her were treated as child "slaves" and the compensation on offer from the government did not fully take account of their hardship.
However, Magdalene Survivors Together was not the only group set up to campaign on behalf of former residents of the laundries.
'Non-adversarial'
In contrast, Justice for Magdalenes Research (JFM Research) said it "broadly welcomes" the compensation recommendations and described it as "another important day in the campaign to bring justice to all the survivors of the Magdalene laundries".
Katherine O'Donnell from the research group said the redress scheme was "fast, effective and non-adversarial".
She added that accepting the state compensation deal did not prevent former residents from suing the religious orders involved in the laundries.
Speaking to BBC Radio Ulster on Thursday, Ms Sullivan said she did not know how other Magdalene campaign groups had reacted to the report, but added they would hold talks in the coming days, before deciding how to respond to the government's settlement.
She said children like her were forced to do manual labour from early morning to late at night, seven days a week, without pay for years, and the payments on offer would not properly compensate all of the women affected.
"I was 12 years of age - I was a child. My education was taken from me, my identity was taken from me. We have no outside communication, our letters were checked. Anything that came into us was checked.
"We had no play time. All that was taken from us and none of that has been taken into consideration, and I think that's what we're annoyed about," she told BBC Radio Ulster.
Recalling her unhappy childhood, Ms Sullivan told BBC Radio Ulster that she rose every day at 06:00, scrubbed floors from 07:00 and in the evenings, she and others manufactured rosary beads for religious orders. They worked until 21:00 and sometimes beyond.
She said the amount of money she personally would be entitled to through the redress scheme had not been worked out yet, but it was "not very much".
'Degrading treatment'
She explained that she had spent five years working in similar residential institutions, but would only be compensated for two of those years, because not all of the homes were Magdalene laundries.
"The five years should be taken into consideration," Ms Sullivan said.
"It's all the institutions we were put around into, into different laundries that are not classed as Magdalene laundries . It was the same torture, the same work, and that's not been taken into consideration."
However, she added that her campaign group was pleased with some aspects of the redress scheme, namely a dedicated room in one of the Magdalene laundries, which she said would be used a a "museum" to tell the stories of the women who suffered in the institutions.
In its statement, JFM Research said it particularly welcomed the report's recommendations "providing for contributory pensions, lump sum payments, enhanced medical cards, and a dedicated unit to ensure easy access to services and supports".
"These measures go some way toward compensating for the women's experiences of arbitrary detention, compulsory or forced labour, and cruel, degrading treatment or punishment," the group added.