Internment rioter Daniel Curley said police 'spoiled the party'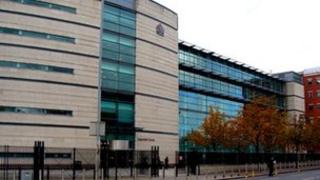 A man arrested for rioting in Belfast on the anniversary of the introduction of internment said he attacked police "because they were spoiling the party".
Daniel Curley, from Beechmount Grove in west Belfast, was detained after he kicked and beat a policeman's shield during the riot on 9 August 2012.
It happened as police tried to disperse a crowd of up to 70 who were throwing bricks and bottles at their lines.
The 34-year-old pleaded guilty to rioting and resisting arrest.
A prosecution lawyer told the hearing at Belfast Crown Court that after his arrest, Curley said he had taken exception to the presence of the police because "they were spoiling the party".
Defence counsel said Curley's generation did not see the anniversary of internment as so much of an emotive date as older people
He added that they viewed it more of a party night than a protest.
The defence lawyer said his client had quickly apologised for his actions, which he bitterly regretted.
Curley was sentenced to complete 200 hours of community service. He was also fined £250.