French tycoon Bernard Tapie placed under investigation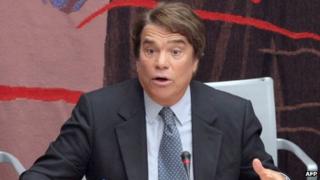 French tycoon Bernard Tapie has been officially placed under investigation by prosecutors investigating corruption claims.
He has been in custody since Monday.
The controversial business figure and supporter of former president Nicolas Sarkozy received a huge payout in 2007 to settle a long-running legal battle with the French state.
The head of the IMF, former French Finance Minister Christine Lagarde, is a key witness in the case.
She decided to use arbitration to settle the dispute, which ultimately resulted in Mr Tapie receiving compensation of 400m euros (£342m; $516m).
The Court of Justice of the Republic, which investigates ministerial misconduct, has been examining claims that the tycoon may have received favourable treatment because of his support for Mr Sarkozy.
In May Ms Lagarde was made an assisted witness in the case after two days of questioning, meaning she will be called upon to testify but is not directly under suspicion.
The affair dates back to 1993 when Mr Tapie sold his stake in sports company Adidas to Credit Lyonnais. Soon afterwards, the bank sold on the stake for a profit.
Mr Tapie claimed the partially state-owned bank had defrauded him by deliberately undervaluing Adidas at the time of the sale, and the arbitration panel eventually found in his favour.
The businessman's lawyer, Herve Temime, said he denied any wrongdoing and added that there was "nothing in the case to show the decision on the payout was the result of fraud".