Irish turf cutters stage protest over EU bog law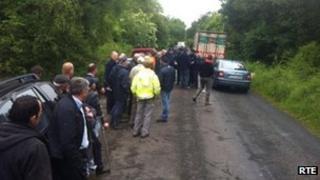 Irish turf cutters have been staging protests against a European law barring them from cutting the bog.
Irish state broadcaster RTE reported that more than 100 cutters gathered in Monivea, County Galway, on Saturday and machinery was brought in to cut turf.
The broadcaster said more than 30 people also gathered at Kilteevan, near Roscommon, in protest against the law.
Irish police confirmed that they were at a protest in County Galway but were not aware of a Roscommon incident.
A Garda spokesman said there had been no arrests so far.
The Irish government is fighting a battle with some of the country's domestic turf cutters over a European law protecting 53 of Ireland's raised bogs.
The turf cutters have been told they are breaking the law by stacking turf on a raised bog.
They own the turf and burn it as fuel in their own homes.
The turf cutters feel that this is a tradition that goes back for generations and should not be ended.
Ten years ago, the Irish government got permission from the EU to delay - until recently - an end to domestic turf cutting on 53 raised bogs.
The government offered those affected 23,000 euro in compensation and access to other turf, but the turf cutters are standing by their right to cut their turf.
The Irish government said it faced 9m euro (£7.7m) in annual fines unless the turf cutting stopped.