Irish abortion vote: White crosses placed near politician's home in protest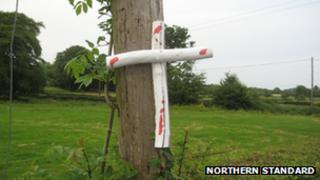 White crosses, splashed with red paint, have been erected close to the home of an Irish politician after she publicly supported new abortion legislation.
They were erected near the County Monaghan home of Heather Humphreys.
Ms Humphreys said that while she understood protests at her office, she viewed crosses nailed to poles outside her family home as "quite invasive".
She is a member of the Irish Parliament (TD), which is taking a series of votes on allowing limited abortion.
The new legislation would permit terminations to be carried out where there is a threat to the life of the mother, or where there is medical consensus that she will take her own life.
Family privacy
Ms Humphreys is an elected member of Fine Gael, the largest party in the Irish coalition government.
She has represented the Cavan Monaghan constituency since February 2011 and is on record as saying she will support the new abortion legislation.
The white crosses appeared some time last week. They were nailed to telegraph poles close to her property at Aghabog, where she lives with her husband and two daughters.
Ms Humphreys has said she believes it was linked to the abortion issue. She has called on whoever is responsible for the protest to stop, as she found it invasive to her family's privacy.
She told her local newspaper, the Northern Standard, that while she accepted that controversies could arise out of her career as a public representative, she would prefer if people would refrain from bringing issues into the realm of her private house.
In a statement to the paper, Ms Humphreys said: "This is a very sensitive issue and there are very sincere and strongly held views.
"I respect these views and I understand that there are genuine concerns. But the reality is that we simply cannot ignore this issue any longer, there have been two referendums on the matter and on both occasions the Irish people decided not to remove suicide as grounds for a termination."
Email campaign
Ms Humphreys told the BBC that one of the crosses was placed at the end of her driveway and others were placed on rural roads at the approach to her home.
She is not aware of any other TD who has been the subject of this type of protest.
She also said that since the story was published, many people in the anti-abortion movement had contacted her by text and email to disassociate themselves from "such behaviour".
There have been at least three anti-abortion protests outside Ms Humphreys' constituency offices in Monaghan town, but all have passed off without major incident.
Fine Gael's director of media and research, Tom Fabozzi, said there had been anti-abortion demonstrations outside the offices of almost all the party's parliamentary representatives, but the placing of crosses at the Humphreys' house was the first protest he had heard of near any TD's family home.
Mr Fabozzi added that there had been a "concerted email campaign" from the anti-abortion lobby, with many protesters vowing never to vote for Fine Gael again if they helped to pass the legislation.
One email, however, sent to all Fine Gael TDs in April, made a death threat against every representative in the party.
Mr Fabozzi confirmed that the matter was referred to the police, who were investigating.
He said that threatening to withdraw political support over an issue was an acceptable part of politics, but threatening politicians' lives was not acceptable under any circumstances.