Paul McGrath arrested over alleged public order offences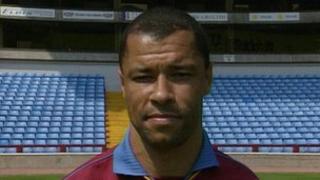 Former Irish international footballer Paul McGrath was arrested at the weekend over alleged public order offences, it has been revealed.
The 53-year-old was arrested by police near the Tullamore Court Hotel in County Offaly on Saturday afternoon.
He was taken into custody after complaints were made that a man was being loud and annoying others in the area.
Mr McGrath was bailed and will appear at Tullamore District Court on 17 July.
He was charged under Sections 4 and 6 of the Public Order Act.
The former Manchester United and Aston Villa defender has spoken openly about his problems with alcohol over the years.
He played for the Republic of Ireland 83 times and scored eight goals in a 12-year career, which included playing with the Irish squad in the European Championship in 1988 and the World Cups of 1990 and 1994.