MEPs approve EU long-term budget after divisive talks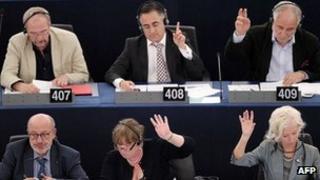 The European Parliament has approved the EU's long-term budget, after months of wrangling with EU governments.
The budget total for 2014-2020 has been set at 960bn euros (£822bn; $1.3tn). It cuts real spending for the first time.
Wednesday's vote followed a deal struck last week between a group of MEPs, ministers and the European Commission.
There will be a final vote on the text in September or October. Before 2009 the parliament did not have legislative powers to shape the EU budget.
The cut was agreed by EU governments at an acrimonious summit in February. The UK had pushed for it, supported by Germany, the Netherlands and Sweden, while net beneficiaries such as Greece, Spain and the new member states in Central and Eastern Europe supported the Commission's proposal for a bigger budget.
The parliament won some concessions under the compromise deal reached last week: there will be a mid-term review of spending at the end of 2016 and unspent budget funds will be carried over from one year to the next, instead of being returned to national budgets.
MEPs are still insisting that an 11bn-euro top-up for the 2013 budget must be allocated before they will sign off the final text of the 2014-2020 budget, which is officially called the Multiannual Financial Framework (MFF). That top-up, called an amending budget, is meant to pay for bills carried over from 2012.