Malta pleads for help after migrants arrive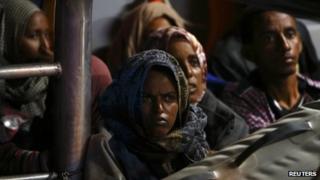 Malta has called for assistance from the European Union after rescuing 291 migrants from a drifting boat.
The vessel was intercepted by Maltese patrol boats after coming from Libya.
Among the 243 men and 48 women on board, at least two had gunshot wounds and others were nearly unconscious.
Malta's Prime Minister Joseph Muscat called EU Council President Herman Van Rompuy to appeal for solidarity, saying the burden of immigration to the EU should not fall on its smallest member.
He said he hoped EU neighbours would show the same solidarity to Malta that it had shown to them when they received bailouts in recent years, according to a report in the Malta Independent.
He did not specify what help he was hoping for.
He added that while Malta would do its compassionate duty, it would not leave its doors open wide and "welcome boats from Libya and elsewhere as if nothing happened".
"Call us harsh, call us heartless, but we are not pushovers," Mr Muscat said.
Papal sympathy
Seven people from the drifting boat were flown to hospital by helicopter, while the others were taken ashore by patrol boats.
It is thought many on board were originally from Eritrea, said Malta's Home Affairs Minister Manuel Mallia.
Meanwhile, on Wednesday, the Italian coast guard intercepted a boat with at least 80 migrants on board off the Italian island of Lampedusa, which has been inundated with migrants in recent years.
The passengers are thought to be Syrians who set out from Egypt.
Pope Francis will visit Lampedusa on Monday to visit and pray for the migrants there, and to lay a wreath in the sea for the many hundreds who have died trying to reach Europe.