Pope Francis issues first 'joint' encyclical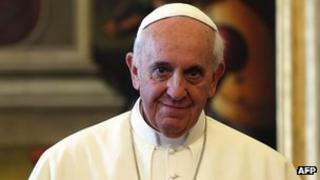 Pope Francis has paid tribute to his predecessor Benedict XVI in his first letter to clergy, acknowledging that most of it was written by Benedict.
The encyclical to Roman Catholic bishops, called Light of Faith ("Lumen Fidei" in Latin), speaks of faith as a beacon of hope for those who suffer.
It is credited to Pope Francis and bears only his signature.
But Francis, an Argentine Jesuit, said Benedict had written a "fine" first draft for it.
Pope Francis and Benedict - officially called Pope Emeritus - appeared together on Friday to consecrate a statue of St Michael Archangel in the Vatican.
In February Benedict became the first pope in 700 years to resign by choice, and Francis was elected to succeed him in March.
The choice of Francis, the first non-European pope for centuries, surprised many Catholics as he had not been seen as a favourite.
The encyclical is an extended letter to the faithful, intended to teach and guide.
The BBC's Alan Johnston in Rome says this one is a rare document, in that it combines the work of two popes - the new pontiff and his predecessor.
In the 82-page text Pope Francis said Benedict had "almost completed" the encyclical before resigning, and that he himself had merely added "further contributions".
The document suggests that the modern world relies too heavily on technology and science, and not enough on religious faith.
Faith is presented in classic Catholic terms - as a source of light in the darkness of suffering, as the means by which we can distinguish between good and evil, our correspondent reports.
And the document says that modern society tends only to accept the truths of technology and science.
In a passage relating to faith and family life, the Pope restates the Church's opposition to gay marriage.