Gas 'tampering' fears for 200 homes in Dublin area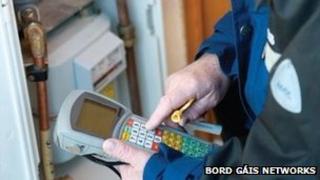 Gas supplies in more than 200 homes in the greater Dublin and nearby area may have been tampered with as part of a scam, Gardai (Irish police) have said.
The scam involves by-passing a gas meter to avoid paying for supply. Officers have warned that it poses a "significant safety concern".
They arrested one man after searches in the Kilmainham area on Tuesday.
In follow-up searches they found meters had been tampered with in a further 10 houses, from Balinteer to Swords.
The man, who is in his 30s, has since been released and a file is being prepared for the Irish Director of Public Prosecutions (DPP).
The officers who carried out the searches were accompanied by staff from Bord Gáis Networks, the company that owns and operates the Republic's natural gas network.
'Financial difficulties'
The company repeated the police safety appeal and said that tampering with a gas meter was illegal and put public safety at risk.
In a statement, the company said: "Bord Gáis Networks, and the gas suppliers, are very aware of the immense financial difficulties that gas customers are experiencing at present, but tampering with a meter is not the solution.
"The consequences could be costly or even fatal," the statement added.
The gas firm's service delivery manager, John Memery, said: "We have seen an increase in the prevalence of gas meter tampering throughout the country, through an increase in detection of meter tampering and increasing numbers of tip-offs from members of the public."
Both the Gardai and Bord Gáis Networks appealed to anyone who suspected that a gas supply had been tampered with to contact them.