Georgia's 'open doors' policy begins to tighten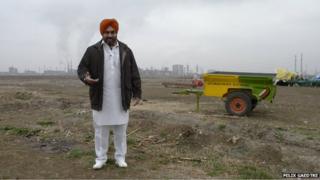 When the leaders of Georgia's 2003 Rose revolution found themselves in charge, they inherited a country that was chaotic, corrupt and broke, writes journalist Maria Jose del Valle. Their answer was to shake up the whole system, but that also threw up some unexpected changes.
Determined to break with the past, the new leadership, led by US-educated president Mikheil Saakashvili, set its sights on integrating Georgia with the West and opening up the country to outsiders.
"In order to become a regional hub we decided to pursue liberal (economic) policies," Nikoloz Gilauri, one of the fathers of Georgia's post revolution economic reforms and a former prime minister, told the BBC.
One of the key elements of that policy, Mr Gilauri says, was to adopt an open visa policy, making it easier to come to Georgia and either invest in or start a business. But the government also slashed red tape, cut taxes and got rid of 85% of regulations for permits and licenses.
Foreigners have flocked to the country. Many have come from near neighbours Turkey, Iran and Egypt. More still more have come from further afield including farmers from India and property developers from China.
The results are there to see in the casinos of the balmy resort of Batumi to the thriving tomato and water melon farms in the provinces.
Georgia's open door policy also fostered a range of niche businesses. Among these are the clinics catering to couples from around the work in touch with surrogate mothers.
"We have couples coming from the US, Canada, Spain, Italy," says Mariam Kukunashvili, co- founder of one such clinic, New Life Global Network.
"For them it is very convenient to come here because they don't need any visa and paperwork is extremely easy to do."
The company says that the number of foreigners seeking its services has grown more than 10-fold over the last five years and easily outnumbers its domestic clients. Part of the reason for this increase may also be the price, just over a third of the typical cost in the US.
These reforms have helped Georgia climb up the World Bank's ease of doing business rankings. It currently holds ninth spot, above Ireland and Estonia, among others, two nations often associated with business-friendly regimes.
Georgia has also enjoyed GDP growth rates of around 10% per year between 2005 and 2008 while the number of registered companies rose dramatically from 36,000 in 2005 to 51,000 in 2007.
Gambling
But there have been some unexpected consequences too.
Take Batumi. The jasmine-scented Black Sea resort has certainly been spruced up. A mafia clan that ran it as its own fiefdom has been banished and the place is now a regional holiday resort where fountains dance and children play in the boulevard.
It also brims with Turks, Azeris and Iranians - all citizens of neighbouring countries where gambling is banned - spending money at the roulette and poker tables.
But one side-effect, says Natia Kharati, executive director of a reproductive health NGO, is that prostitution is soaring.
"We used to have a high number of sex workers during the summer but now it is all year long," says Kharati who adds that while "most of them" are from Georgia some also come from Central Asia.
Other workers from afar have come to work in the fields. Some 400 km (240 miles) away from the glittering lights of Batumi, in the outskirts of tiny Akhal Samgori, Punjabi farmers Michel Bishnai and Kuldeep Singh are out hard at work most days.
Cheap land entices outsiders
Amid the crumbling remains of heavy industry factories from the Soviet era, the pair grow tonnes of tomatoes, potatoes and watermelons.
They ares among an estimated 2,000 Indian farmers who have established themselves in Georgia over the last few years. They epitomize the ambitions of those who venture far to start from scratch and how their presence can help Georgia.
They bought all their own agricultural machinery with them and say in the peak season they hire 20-25 workers.
"We came here because land is very cheap compared to India and the quality of the soil is very high. The climate is good and people are helpful, Mr Singh says, adding: "We would like to buy more hectares of land and stay here."
But not everyone is happy with the Indian farmers buying land.
Raul Babunashvili, founder of the Georgian Farmers' Union, believes that Georgian land is for Georgians and resents the arrival of outsiders.
He says the Indian farmers are "hardworking", but says the previous government of Mr Saakashvili didn't pay enough attention to agriculture and says some farmers were so broke they sold their lands for knock down prices.
Ghia Nodia, a political scientist at Ilia University in Tbilisi says the open-door policy has helped fuel ultra-nationalism in Georgia.
He says opposition to these policies played a role in Saakashvili's government loss of power in last October's elections. In Batumi, in the run up to the vote crowds accused him of allowing "Turkish expansionism" at the expense of Georgian culture and sovereignty.
"Some people said that his government brought too many foreigners. This kind of openness is considered by some to undermine Georgian and sell the country to foreigners," Nodia says.
The new government of billionaire businessman Bidzina Ivanishvili has already started to tighten up the rules just as GDP growth and foreign investment are slowing down.
Visa clampdown
While it has vowed to stay market-focused and western-orientated, Minister of Justice Tea Tsulukiani has announced a review of the liberal visa regime.
"The system right now is a bit chaotic," she told the BBC. "We want it to be closer to EU regulations."
Already though, on 1 July Georgia unilaterally revoked the visa-free rules with Iran.
This won't hurt foreign investment, according to Irina Guruli, at Tbilisi's Economic Policy Research Center as Iran contributes less than 1%.
However, she adds: "Iran is one of Georgia's top 20 export partners. Therefore, negative impact associated with visa restrictions might come through trade channels."
Indian farmers, may also affected by the new restrictions towards foreigners. Georgia's parliament passed a new law in June to suspend the sale of agricultural land to foreign citizens until the end of 2014.
It is not an idea that would appeal to former Prime Minister Nikoloz Gilauri.
"We believe that more workers coming to the country, to the economy, will end up in good things," he told the BBC before the latest changes.
"It brings capital, it brings know how, it brings everything. It is not bad for a country to be a hub for employment."