Anglo tapes: Ex CEO David Drumm says he was scapegoat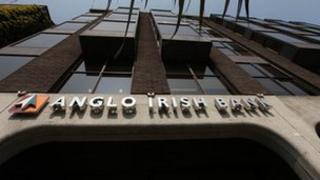 Former Anglo Irish Bank chief executive David Drumm has said he will no longer allow himself to be a scapegoat for the banking crisis.
He issued a statement to RTÉ news, as the transcripts of more recordings he had with another former Anglo executive John Bowe were published in the Irish Sunday Independent.
Mr Drumm ran the bank between 2005 and 2008.
The bank was nationalised in 2009.
The former banking chief attacked what he called the "drip, drip, drip" release of phone recordings made at Anglo Irish Bank in 2008.
He claimed he was being made a scapegoat by politicians and what he described as "politically connected former bankers and politically protected senior public servants".
Mr Drumm said these people did not want to see their role in the crisis highlighted.
After leaving Anglo in 2008, Mr Drumm later moved to the United States, where he filed for bankruptcy.
The government rescue package for Anglo eventually cost Irish taxpayers around 30bn euros, which the Irish Prime Minister Enda Kenny said was the "single biggest financial transaction ever made in history of our state".
After the failed bank was nationalised in 2009, the following year the Irish government needed a bailout from the European Union and the International Monetary Fund (IMF).
Mr Kenny has said the Anglo tapes had damaged the Republic's reputation.
The government announced in June that it was opening an inquiry into the bailout of Anglo Irish Bank, following release of taped phone conversations between former executives.
The recordings revealed by the Irish Independent newspaper, suggest directors may have underplayed the colossal sum needed to fix the bank.
Prime Minister Enda Kenny said the public must learn the truth of Anglo Irish's collapse.
Executives at the centre of the row deny they misled regulators.
The recordings, from 2008, include conversations about how the bank went about receiving 7bn euros (£5.9bn) of bailout funds. The bank ended up needing much more.