EU car levy row with Russia goes to WTO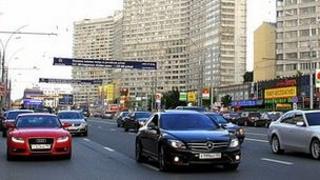 The EU has taken a trade dispute with Russia to the World Trade Organization for the first time.
The European Commission objects to a "recycling fee" that Russia imposes on vehicles imported from the EU.
The Commission says there is an exemption for cars produced in Russia, Belarus and Kazakhstan.
The levy nullifies the import tariff cut that Russia made under WTO rules, the Commission says, calling the impact on EU vehicle exports "severe".
Russia joined the WTO last August. Ultimately the WTO can call for countries to change their policies and, if they do not comply, give the other side permission to retaliate.
Russia introduced the fee on 1 September 2012, just days after joining the WTO. It is levied on cars, trucks, buses and other vehicles.
For cars, the Russian fee ranges from about 420 euros (£363; $540) to 2,700 euros for a new vehicle and from 2,600 to 17,200 euros for a vehicle more than three years old. For some vehicles, such as certain mining trucks, the fee is as high as 147,700 euros, the Commission says.