Kercher Italy murder case: Knox appeal in September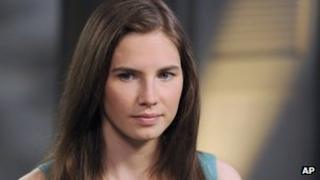 An Italian court will begin hearing on 30 September the appeal against the convictions of Amanda Knox and Raffaele Sollecito for the 2007 murder of the British student, Meredith Kercher.
The American and her Italian ex-boyfriend were found guilty in 2009, but acquitted on appeal in 2011.
In March, Italy's highest court overturned both acquittals.
Meredith Kercher, 21, was found dead in a flat she shared in Perugia with Ms Knox, a fellow exchange student.
The Leeds University student, from south London, had been repeatedly stabbed. Prosecutors said she died in a brutal sex game that went wrong.
Both Ms Knox and Mr Sollecito maintain their innocence. Ms Knox insists that on the night of Meredith Kercher's death she was at Mr Sollecito's flat smoking marijuana and watching a movie.
Another man - Rudy Guede from Ivory Coast - was convicted in a separate trial and sentenced to 16 years for the killing.
'Deficiencies'
Miss Knox and Mr Sollecito were sentenced to 26 and 25 years in prison respectively after being convicted of murder and sexual violence in December 2009. Ms Knox received an extra year for slander after she falsely accused another man of committing the murder.
However, they were freed on appeal by a court in Perugia in October 2011 after doubts were raised about the forensic evidence against them.
Prosecutors and lawyers for the Kercher family then challenged the acquittals, which were subsequently overturned by the Court of Cassation because of the way the appeals process had been handled.
The Court of Cassation's judges sharply criticised the appeals court, saying its ruling had been full of "deficiencies, contradictions and illogical" conclusions.
A ruling published in June said the appeals court judges had ignored some evidence, considered other evidence insufficiently, and undervalued the fact that Ms Knox had accused an innocent man.
The judges were also criticised for not taking into account the sentence against Guede, which said he had not acted alone.
The re-run of Ms Knox's and Mr Sollecito's appeals due to start in Florence on 30 September is technically not a new trial, but a continuation of the original one and therefore not considered "double jeopardy".
After her acquittal was overturned, Ms Knox revealed she would consider returning from the US to clear her name.
If the new appeals process confirms her previous conviction, Italy would then be expected to request her extradition. However, the US is famously reluctant to hand over its citizens.