Cyprus ex-minister Papacostas guilty over deadly blast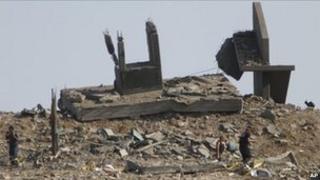 Former Cypriot Defence Minister Costas Papacostas has been found guilty of manslaughter over a deadly munitions blast that killed 13 people in 2011.
A court ruled that he was directly responsible for failing to safeguard a cargo of confiscated Iranian munitions that exploded at a naval base in Zygi.
Former Foreign Minister Marcos Kyprianou and another defendant were cleared of all charges.
The blast crippled Cyprus's main power plant, causing severe disruption.
The disaster occurred when 98 containers of Iranian gunpowder, which had been confiscated two years earlier from a ship suspected of smuggling, exploded.
The containers were being stored just 150m (500ft) away from the island's biggest power station at Vassiliko.
Papacostas ignored warnings by subordinates about the risks of leaving gunpowder in scorching heat, Judge Tefkros Economou said in his verdict.
"We have no doubt the defendant was aware of the risks... but closed his eyes to the danger," he added.
Anger in court
Papacostas and three senior fire service officials were also convicted of causing death through negligence, which carries a four-year sentence. Manslaughter carries a maximum sentence of life in prison.
They are all due to be sentenced on 24 July.
However, relatives of the victims voiced anger over the not guilty verdicts, calling it an "injustice".
One woman, Poppi Christoforou, who lost her twin sons in the explosion, shouted "justice has been sent to the gallows" after the final verdicts were read.
The cargo was seized from a Cypriot-flagged vessel in February 2009, suspected of transporting arms from Iran to Palestinian militants via Syria.
The burning of gunpowder triggered an estimated 1.5 megaton blast that damaged 730 homes and businesses.
The head of the Cypriot navy, Andreas Ioannides, and six firefighters were among those killed. Dozens of people were wounded.
Street protests broke out against the government's handling of the affair.
A public inquiry into the incident in 2011 concluded that former President Demetris Christofias bore a "serious, and very heavy personal responsibility" for the blast. However, as president he had immunity from prosecution.