Portuguese culture feels the pinch as arts budget slashed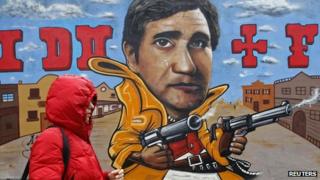 In the Fado restaurant in Porto, Sandra Correia sings with her eyes tightly shut as she performs the melancholy repertoire of traditional Fado ballads about irreparable loss.
It seems fitting mood music for a country that has slashed its arts funding to just 0.37% of the annual budget and which, two years ago, took the decision to axe its ministry of culture.
"Every day it's a fight to be an artist in Portugal," Sandra tells me in a break between songs.
"I have many friends who now perform in France and over there the politicians understand the importance of culture - here we get absolutely no support.
"They've just cut culture out."
In the nearby and astonishingly beautiful neo-Gothic Lello bookshop, with its intricate Harry Potter-style staircase and gleaming butterscotch balustrades, international best-selling author Luis Miguel Rocha is also in despair.
For the first time in 82 years, the Porto book fair has been cancelled due to a lack of funding.
'Tragic'
"I'm just so angry," he tells me as we wander around the store.
"The book fair was a major literary meeting point and it was so important for authors like me and for publishers who live by selling books."
He shakes his head.
"We have to survive so we are looking everywhere - except towards our government which doesn't help us."
Portugal does not have a strong tradition of private cultural philanthropy, nor does it have many private foundations dedicated to supporting the arts.
With state funding halved, many theatres, operas, galleries have been left in a precarious state and cultural historian and former Culture Secretary Rui Vieira Nery wonders how they will recover.
"The cuts will have a tragic affect on all aspects of Portuguese cultural life," he argues.
"Remember that in Portugal we don't have sound cultural institutions - ours are rather recent and haven't been established deeply enough to survive these brutal cuts."
He goes on to remind me that for much of the 20th Century Portugal was stifled under a right-wing dictatorship, and when it emerged after a bloodless coup in 1974, more than 40% of the Portuguese people were illiterate.
"We've spent so much money in the last 25 years on developing the arts scene in Portugal, and now we have architects, artists, film directors and writers who are all internationally acclaimed.
"It's just such a terrible waste."
But the government, determined to speed the country toward the goals of the 78bn euro ($102bn; £67bn) bailout, is forced to view culture as an expense rather than an investment.
26-year-old photographer Daniel Rodrigues and I pour over his laptop as he shows me his impressive portfolio of pictures.
"Yeah, if only someone would buy the photos!" he laughs ironically as I tell him how impressed I am.
"Everyone says they love them, but no one has any money to pay for them."
This year, Daniel won the World Press Photo awards for his outstanding work in Guinea Bissau, but when it came to the prize ceremony, he had something rather embarrassing to admit to the judges:
"I had to say that I'd sold my camera," he smiles.
"I sold all my equipment - the flash, even the tripod and camera bag.
"I'd been made redundant from my job as a photo journalist and I needed the money to pay my bills."
His story hit the Portuguese newspapers and a bank stepped in and bought him a new camera. He's grateful, though still unemployed.
Leaving
"It was embarrassing and sad for my country," he says. "Because my story is the story of all young creative people in Portugal.
"The government just doesn't see the talent. So all the creative people I know are leaving."
And that includes even long-established, award-winning artists like film director Joao Canijo.
On the terrace of the swish Lisbon hotel where we meet, a place I imagine is regularly frequented by showbiz types and artists, Joao looks strangely jaded.
"Until 2011," he says wearily, "I was making three films a year - then nothing. The funding just stopped."
Portuguese films are subsidised by a tax on TV advertising and are meant to be independent of government budgets.
"Not since the crisis, my dear," Joao explains sarcastically. "Now everything passes through the finance ministry first and the result is that there were no films commissioned at all in 2012.
"And those films commissioned in 2011 haven't received any money - so they haven't been able to start production."
He stares into the sky wistfully.
"I'm too old now [at 56] to start a new career abroad, but I'd like to go abroad anyway and teach." He shakes his head.
"I'm trying (to leave). I'm trying. I just want to be far away from here."
History
Back in the Lello bookshop in Porto, Vatican thriller writer Luis Miguel Rocha says the Portuguese government needs to take a step back from its austerity programme.
"Have they forgotten history?" he asks me.
"Even the Romans had two basic things - bread and circus - because they recognised the people needed feeding and entertainment."
He becomes more animated.
"You know people here already feel they are just state slaves.
"What do they get in return? We have to have culture. Even if it's just to dream."
He looks at me purposefully.
"We need culture - even if it is just to give us the illusion that… there is hope."