Journalist shot dead in Russia's Dagestan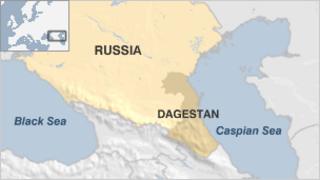 A journalist in the Russian region of Dagestan has been shot dead.
Akhmednabi Akhmednabiyev, the deputy editor of Novoye Delo newspaper, was killed in his car. He also wrote for the Caucasian Knot website.
Police linked his killing to his work. He was known for investigating alleged human rights abuses by security forces.
"It seems that somebody is trying to completely shut down the trickle of truthful information" from Dagestan, said the human rights group Memorial.
Dagestan is wracked by an Islamist insurgency and regular violence.
Caucasian Knot said Mr Akhmednabiyev, 53, was the 17th journalist to be killed or die in suspicious circumstances in Dagestan since 1993.
Mr Akhmednabiyev's name had appeared in 2009 on a leaflet identifying journalists and activists suspected of supporting Islamists.
Another journalist on the list, Gadzhimurad Kamalov, was shot dead in December 2011.