Italy ex-PM Berlusconi's tax fraud appeal set for 30 July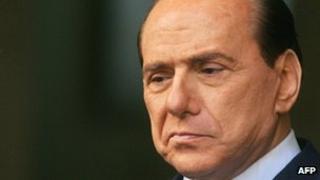 Italy's highest court has set 30 July as the date for hearing ex-PM Silvio Berlusconi's tax fraud appeal - a much earlier date than expected.
His lawyers said the decision was a "squeeze on the rights of the defence".
The early hearing could prevent the statute of limitations from expiring on one of the charges, analysts say.
In May an appeals court upheld Mr Berlusconi's conviction. It also reinstated a four-year jail term and five-year ban from public office.
The 76-year-old was convicted of artificially inflating prices of film distribution rights bought by his company, Mediaset, to avoid taxes.
Mr Berlusconi denies the charges and says they are politically motivated.
'Astonished'
The Court of Cassation set the new hearing date on the day the appeal was formally lodged.
Italy's justice system is notoriously slow in dealing with appeals, and Tuesday's decision by the court drew an angry reaction from Mr Berlusconi's defence team.
"I have never seen a hearing programmed as quickly as this. I am astonished," lawyer Franco Coppi told the Reuters news agency.
"This is a real squeeze on the rights of the defence."
If the court upholds Mr Berlusconi's conviction, he will have no further right to appeal.
Analysts say that the former premier may still avoid prison due to his age, but the ban on holding public office would deprive him of his seat in parliament.
It could also put pressure on current Prime Minister Enrico Letta's coalition cabinet, which depends for support on Mr Berlusconi's centre-right People of Freedom Party.
The tax fraud trial is only one of a series of legal battles Mr Berlusconi has faced in recent years.
Last month, he was sentenced to seven years in jail and banned from public office for having sex with an underage prostitute, and abuse of power.