Malta cancels migrant deportation to Libya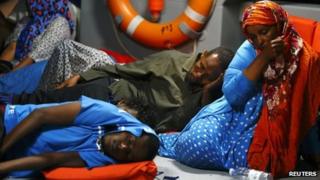 Malta has cancelled flights it had booked to return migrants to Libya, after an emergency intervention by the European Court of Human Rights.
The government had planned to send back people who had arrived by boat, but said it would abide by the ECHR order.
Prime Minister Joseph Muscat said more than 400 migrants had arrived in the past week.
Malta last week called for assistance from the European Union to help cope with the influx.
Some 291 people were rescued from a single drifting boat last week. It is thought they had departed from Libya but many of them came originally from Eritrea.
Another 68 people were brought in by Maltese patrol boats on Wednesday.
Mr Muscat said the Maltese authorities were also monitoring further boats in the Mediterranean.
The summer months often see a stream of boats carrying migrants from Africa. Many arrive in Malta or the Italian island of Lampedusa, hoping to gain access to other parts of the European Union.
'Not pushovers'
On Monday Pope Francis visited Lampedusa, where he met migrants and said Mass for them, and condemned the "global indifference" to their plight.
The European Court issued its order on Tuesday after an emergency request by non-governmental organisations concerned by reports that the Maltese government was preparing to deport the migrants.
The NGOs said this was the same policy of "push back" that was declared illegal by the court last year after it was used by Italy in 2009.
Mr Muscat confirmed the government had been discussing the return of migrants with Libya, but said this was not "push back".
"This is not push back, it is a message that we are not pushovers," he told the Times of Malta website.
But on Tuesday the EU's Home Affairs Commissioner Cecilia Malmstroem expressed concern about the plan to return migrants, saying: "All people arriving in EU territory are entitled to file an asylum request and to have a proper assessment of their situation."