Greek court frees on bail hunger striker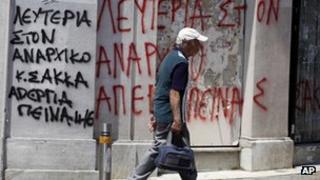 A judicial panel in the Greek capital, Athens, has ordered a suspected far-left militant be released on bail after he went on hunger strike.
Kostas Sakkas was arrested in 2010 on terrorism charges. His strike began in June when his detention without trial passed the 30-month legal maximum.
This week a doctor said Mr Sakkas, 29, had lost 20% of his bodyweight and risked organ failure and death.
He denies links to extremists jailed over a wave of bomb and arson attacks.
The rights group Amnesty International has condemned his detention. The case caused a heated dispute between the conservative-led coalition government and left-wing opposition.
The main opposition party, Syriza, had organised public demonstrations calling for his immediate release.
Suspected terrorist
Mr Sakkas has been linked to the anarchist militant organisation Conspiracy of Fire Nuclei. Several of its members have been convicted for sending parcel bombs to European leaders and embassies.
The United States has classified the group a terrorist organisation. In 2011 police carried out several arrests and said they had broken up the group.
Mr Sakkas had been on hunger strike since 4 June. On Wednesday, his doctor had warned he was "at the final stage of life", adding that the strike action risked causing irreversible damage to his eyesight, heart, kidneys and liver.
His bail was set at 30,000 euros ($38,000: £25,000); he has been prohibited from contacting his co-defendants and barred from leaving the Athens metropolitan area. He was also ordered to report to a police station every week.