Italy anti-mafia op nets mayor and aides in south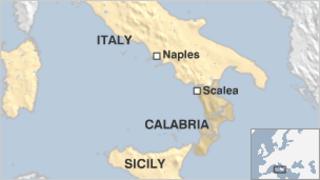 Police in southern Italy have arrested a town's mayor and five councillors, in a major crackdown on mafia fraud and contract-rigging.
Scalea's mayor Pasquale Basile and the five councillors are suspected of granting contracts to firms run by the 'Ndrangheta crime syndicate.
They were among 38 people arrested in five southern provinces.
Police raided dozens of firms and properties, seizing assets worth 60m euros (£52m; $78m).
The assets seized included two yachts and 33 cars including Jaguars, BMWs, Mercedes and vintage cars, the Ansa news agency reported.
Police froze 78 bank accounts and 23 insurance policies.
The operation targeted the Valente-Stummo clan of the 'Ndrangheta, a powerful mafia network based in Calabria.
Last October Italy's central government sacked the entire council of Reggio Calabria, the biggest city in Calabria province, in a separate anti-mafia operation.
The tightly-knit 'Ndrangheta operates across Europe and has connections with Colombian drug cartels. It is seen as more powerful than the Sicilian Mafia.