Femen's Inna Shevchenko inspired France's Marianne stamp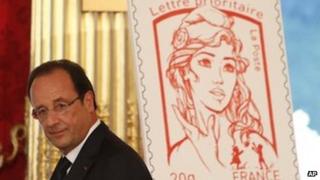 The artist who designed the new Marianne image for French stamps has revealed that he was inspired by topless activist Inna Shevchenko.
The Ukrainian, who belongs to the protest group Femen, was recently granted political asylum in France.
Artist Olivier Ciappa said the original Marianne - traditionally depicted with bare breasts - would certainly have been a member of Femen.
The new stamp was unveiled by President Francois Hollande on Sunday.
Each newly elected French president chooses an image of Marianne - who symbolises the republic - to appear on stamps. Mr Hollande decided that his stamp should represent the values of youth.
The image by Olivier Ciappa and David Kawena was chosen by the president from a shortlist selected by a panel of school students.
Mr Ciappa said on Twitter that their Marianne was "a mixture of several women but especially Inna Shevchenko".
Ms Shevchenko, for her part, tweeted: "All homophobes, extremists, fascists will have to lick my a** when they want to send a letter."
The activist is a co-founder of Femen, which uses controversial stunts to bring publicity to feminist causes.
The organisation said its "uncompromising struggle against patriarchy, aesthetics of sextremism," and the "beauty and charm of Inna Shevchenko" had inspired the artist.
The BBC's Hugh Schofield in Paris says critics are astonished that an angry Ukrainian provocateur should become the official symbol of France.
France's rightwing Christian Democratic Party has called for a boycott of the stamp.