Magdalene laundries: Four religious orders refuse to pay into fund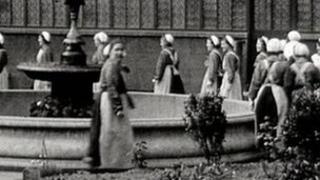 Four orders of nuns who ran the Magdalene laundries in Ireland are refusing to financially contribute to the survivors package.
The Irish government said it will cost between 35m-58m euros (£30m-£50m).
The Mercy Sisters, the Sisters of Our Lady of Charity, the Sisters of Charity and the Good Shepherd Sisters informed the Justice Minister Alan Shatter that they would not pay into the fund.
However, they are willing to assist in all other aspects of the scheme.
The package is based on recommendations by Mr Justice John Quirke, who was asked by the cabinet to devise eligibility criteria. He was asked for proposals to set up a scheme to compensate women and bring "healing".
The other scheme recommendations include the assembly of records, and looking after former residents who remain in their care.
According to the Irish News a spokeswoman for Mr Shatter said he was "disappointed" with the decision of the four orders not to make a financial contribution.
Abuse
He will brief his ministerial colleagues about the situation at the weekly cabinet meeting on Tuesday.
The laundries were Catholic-run workhouses where thousands of women and girls had to do unpaid, manual labour.
Payments will range from 11,500 euros (£9,000) for women who spent three months or less in a laundry, to a maximum of 100,000 euros (£85,000) for ten years or more.
Payment is not dependent on proof of hardship, injury or abuse.
Around 600 survivors are to receive forms by post to enable them to apply for redress.
Relatives of the deceased are not covered by the scheme, unless they had registered an expression of interest before 19 February 2013.
The former residents of the laundries will also receive a range of supports, including an enhanced medical card and pension.
Any payments already made under the Residential Redress Scheme will not be taken into account.
About 10,000 women passed through the laundries in the Republic of Ireland between 1922 and 1996, according to a report in February.
The laundries operated from the 18th to the late 20th Century.