Germany asylum surge as more Chechens flee Russia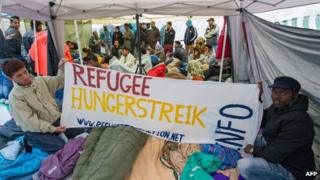 The number of people seeking political asylum in Germany has soared, and the biggest group by far was from Russia.
In the first half of this year, just over 43,000 refugees applied to stay - that is 86% more than in the same period in 2012.
It is the highest level since 1999, when people fled Serbia's Kosovo war.
Many this year came from Russia's Chechnya region, they told German officials. Violence and human rights abuses plague Chechnya.
German Interior Minister Hans-Peter Friedrich said that "in 2012, by far the most asylum seekers in the European Union came to Germany, and in the first half of 2013 we saw almost a doubling of applications.
"The number of asylum seekers in the first half of 2013 was the greatest since the same period in 1999."
According to the interior ministry, 9,957 people came from Russia and claimed political asylum in Germany, compared with 4,517 from Syria and 3,448 from Afghanistan.
Chechen exodus
The figures for refugees from Chechnya are perplexing analysts because there has not been a perceptible deterioration of the situation there. No worsening of a vicious war has been reported in the North Caucasus republic.
Russia insists that it has stabilised Chechnya, "normalising" the situation along with its Chechen allies.
Thousands of people were killed and thousands more displaced when Russian troops stormed back into Chechnya in 1999 to crush a separatist revolt. The rebels had earlier pushed Russian forces out, in a guerrilla war which left Chechnya in ruins.
The violence has left at least 29,000 people still displaced in the North Caucasus, and many others scattered across Russia, the Geneva-based Internal Displacement Monitoring Centre reports.
One theory being mooted in ministries to explain the surge is that, exactly a year ago, Germany's highest court ruled that asylum seekers waiting for their applications to be processed should receive the same social benefits as Germans.
That led to higher payments for food and accommodation, as the different regions of Germany implemented the court's strictures.
Svetlana Gannushkina, a leading human rights activist in Russia, says Chechens appear to have been motivated by rumours that Germany "has opened its doors to Chechens".
In an e-mail to the BBC, she said "a rumour is circulating that in Germany each family is given a parcel of land and money to build a house".
She said people-traffickers appeared to be spreading such rumours. Whole families are leaving some Chechen villages, fed up with the human rights abuses committed by the forces of Chechen President Ramzan Kadyrov, she said.
Sensitive issue
The German authorities reject about 40% of all applicants for political asylum. Recently, the rate of rejection of applicants from Serbia and Macedonia has been 100%.
The reason usually given is that, though many of the applicants have faced persecution, this persecution has been racially motivated and committed by other citizens rather than the political persecution which defines an asylum seeker under the Geneva Convention.
The German interior ministry said three aims were important: those who need protection should get protection; applications must be processed quickly and those who fall under the jurisdiction of another EU country should be transferred there.
This is an election year in Germany and politicians are sensitive about the issue. There have been protests by asylum-seekers at makeshift camps set up in the middle of Munich and Berlin. The government is wary of being too generous, with the election just two months away.
Some officials felt there was a danger of Germany getting a reputation as over-generous to those who turned up at its ports and airports for economic reasons rather than from true fear.
In 2011, France had the highest number of asylum applicants in the EU - 57,335. Germany was second, with 53,255, then came Italy with 34,115, the EU statistics agency Eurostat reports. The figure for the UK was 26.430, just above Switzerland (23,625), which is not in the EU.