Anti-austerity protesters chant insults at Irish minister Pat Rabbitte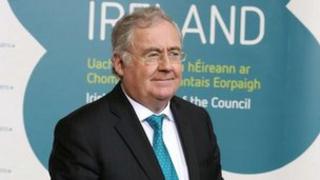 An Irish government minister has been confronted by anti-austerity protesters who chanted insults at him in a pub.
Communications Minister Pat Rabbitte was having a pint outside a central Dublin bar on Wednesday when he was surrounded by a crowd of protesters.
Up to 50 people then followed him inside the bar and shouted insults such as "traitor" and "parasite" in a stand-off lasting more than five minutes.
Police were called to the pub and they removed a small number of protesters.
A police spokeswoman said officers were called to deal with a "public order incident" at the bar on Baggott Street at about 19:30 BST on Wednesday.
She added that no arrests had been made. The minister was not harmed and left the bar a short time later.
Protest
The pub, Doheny & Nesbitt, is close to the Irish parliament.
The gates of the parliament had been the location of an earlier protest against the government's austerity measures and the conduct of Irish bankers.
It is understood the minister was trying to have a drink with colleagues after work when he was spotted by protesters who began to chant: "Rabbitte, Rabbitte, Rabbitte, run, run, run."
Mr Rabbitte is a member of the Irish Labour Party, the junior partner in the ruling coalition and was berated for his role in the government's austerity programme.
On Thursday morning, the minister told the Irish state broadcaster, RTÉ, that he had been met by an "uninvited greeting party" while having a pint on a sunny evening.
Mr Rabbitte said he believed the pub protest had been led mainly by members of the dissident republican political group, Éirígí.
It has campaigned for an end to the bank bailout and has called for those responsible for the banking crisis to be jailed.
Troika
The minister said his group was approached by a man who began to make an audio recording of their conversations, before using his mobile phone to call protesters and direct them to the pub.
"I slipped inside when I became aware that was happening, but 40 or 50 of them followed me in and the rest as they say, is apparently on video," he told RTE.
The minister said the "funny thing was" that those involved had "missed the focus" of their protest, because they failed to realise that two other government minsters were upstairs in the pub meeting representatives of the troika.
The troika consists of the International Monetary Fund (IMF), the European Central Bank (ECB) and the European Union (EU), which is monitoring the Irish Republic's 85bn euros (£73m) international bail-out.
Mr Rabbitte said: "It might have had an interesting impact on them (the troika) if they saw some of the stuff that we have to put up with while implementing their prescription, but there you are, that's the way it goes."