Russian press sympathy for Navalny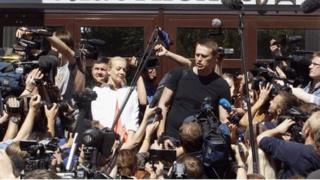 Newspapers in Russia have been sympathetic towards Kremlin critic Alexei Navalny following his sentencing on embezzlement charges on Thursday.
Mr Navalny's unexpected release on bail came too late to be reflected in Friday's newspapers, which focus on his role and the impact of his possible absence from the political arena.
Commentators are impressed with Navalny's determination and charisma, with one newspaper describing him as a beacon of freedom in Russia.
Another article, however, argues that Navalny comes from "a murky environment" and may indeed have something to answer for.
'No alternative' to Navalny
The Nezavisimaya Gazeta daily argues that as far as charismatic politicians go, the Russian opposition has no alternative to Alexei Navalny.
In an editorial, it says the Kremlin's opponents resemble "a religious group awaiting an imminent apocalypse", rather than a coherent political force which can overcome its divisions and formulate a rational and comprehensible policy.
"Navalny simply plugged those gaps, becoming an idea, a slogan or a programme himself," argues Nezavisimaya Gazeta.
Vedomosti, a business daily, praises Navalny's determination and the fact he chose to go to jail rather than strike a deal with the system.
"That's real freedom," the article says, adding: "Watch and learn: this is a real school of leadership."
The Russian government's response, according to the paper, has been "hysterical" and "chaotic".
"The system is reacting as if it were facing a tsunami. Yet it's dealing with just one free person," says Vedomosti.
'Keep your mouth shut'
Moskovsky Komsomolets, a popular tabloid, senses foul play in Navalny's prosecution, saying it aims to serve as a lesson to "those who are free".
The daily says the Kremlin is worried Russians are losing their fear of their government. "Fear has weakened. It needs to be restored," it imagines the leadership thinking.
The message for Russians is, according to the paper: "Keep your mouth shut, and then it won't matter who you are: a drug addict, a paedophile, a homosexual, a thief or a racketeer. What's important is that you're not an enemy."
An article in the Komsomolskaya Pravda tabloid argues that sending Mr Navalnyy to jail may actually be counterproductive for the Kremlin, pointing out that history is replete with examples of rulers' opponents becoming "stronger and more dangerous while in jail".
In remarks made in the same paper, journalist Yulia Latynina agrees, saying Mr Navalny's sentencing confirmed his status as leader of the opposition.
"In order to become a prophet, you have to hang on a cross for a while," she tells Komsomolskaya Pravda. "In order to be a real opposition politician in an authoritarian state, you have to go through jail."
"Murky environment"
Eduard Limonov, a neo-Bolshevik opposition figure, is critical of Mr Navalny, however.
Writing in the pro-government daily Izvestiya, he says that the opposition leader comes from "a pretty murky environment where people happily forgot about the line between legal and illegal".
He is also suspicious that Navalny is engaged in a double game and may in fact be backed by the Kremlin. "This whole Navalny saga is beginning to stink more and more," writes Mr Limonov. Still, he offers his "commiserations and sympathy" to Navalny.
In the top story on the website of the Russian government's Rossiyskaya Gazeta newspaper, Anatoly Kucherena, a pro-Kremlin lawyer who recently helped fugitive US whistle-blower Edward Snowden apply for asylum in Russia, voices satisfaction with Navalny's release on Friday.
"The Kirov region court was absolutely right" to release Mr Navalny on bail, especially because he is running as a candidate for the Moscow mayoral office, Mr Kucherena tells the paper.
"Even though he is critical of the authorities and has his own view of many things, his freedom should not be restricted during an election campaign," he adds.
BBC Monitoring reports and analyses news from TV, radio, web and print media around the world. For more reports from BBC Monitoring, click here. You can follow BBC Monitoring on Twitter and Facebook.