Derry woman's body found washed ashore in County Donegal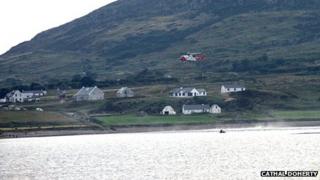 The body of a Londonderry woman has been found washed ashore in County Donegal.
The coastguard at Malin Head was called to the scene at Rockstown Bay near Clonmany at about 18:30 BST on Monday.
It is on the north eastern side of Lough Swilly.
Joe Joyce from the Lough Swilly lifeboat said it is believed locally that the woman drowned after losing her footing.
"There is a little island off Rockstown harbour and there is a little shingle causeway out to it," he said.
"We happen to be at spring tides at the moment and that causeway is covered.
"It is believed locally that the lady had gone out to the island at low water and had got trapped there and attempted to get ashore.
"Now the causeway is in a crescent shape so if you didn't know it you would lose your footing, it is believed locally that's what happened."
Mr Joyce said the island was a location that had been the focus of a number of lifeboat rescue operations in the past.
Four lifeboats, a helicopter and shoreline search parties took part in the search on Monday, which went on for about four hours.
The Police Service of Northern Ireland assisted gardaí (Irish police) after it emerged that the woman was originally from Derry.
The gardai had received reports that the woman may have been seen in the company of a child earlier on Monday.
However, the rescue services say they are satisfied no child is in the water.
Craig Smith of Foyle Search and Rescue said the woman's death highlighted how "dangerous the water is in the good weather and that it could just take a life at any moment".
"Unfortunately this week there have been a lot of tragedies, especially water-related incidents and it is another one of the water-related incidents with the good weather," he added.